We're about to head into a long weekend, which means it's the perfect time to kick back, relax, crack open a cold beer, smoke some fine herb, and just take it easy. It's a rough and wild world out there, so we all deserve a little rest and relaxation this Labor Day weekend, so go ahead and give yourself permission to not do a single thing you don't want to do. Even if that means cooking, especially if you're a fan of The Weeknd and you live in LA. Abel Tesfaye has linked up with Postmates and LA plant-based burger staple Monty's Good Burger for a special super goth-influenced happy meal that celebrates The Weeknd's After Hours 'Til Dawn tour.
I guess Postmates and Monty's couldn't make the DAWN FM meal work.
The full After Hours Til Dawn menu was curated by The Weeknd and consists of a double Impossible Burger topped with a special black chipotle ketchup, and thick crinkle-cut pickles on a brioche bun with a side of tater tots, radioactive yellow habanero dipping sauce, and lemonade with activated charcoal that gives it an unsettling squid-ink black color. A special oat-based soft serve shake with white chocolate chunks and cherries is also available, but I didn't get to try that as it would've undoubtedly melted in this crazy Los Angeles heatwave.
The meal is only available for pickup via the Postmates app from today until closing time (11:59 pm PT) on Saturday, September 3rd at Monty's Good Burger in Los Angeles, will cost you $27.99 and comes packaged in a special Happy Meal-esque box. If you visit the Monty's Good burger location at 8432 West Third Street in Los Angeles you'll also have the chance to win tickets to the After Hours Til Dawn concert for the night of September 3rd.
As part of this promotion, a donation is being made to the XO Humanitarian Fund, an organization that Tesfaye is a Goodwill Ambassador for.
"For The XO Humanitarian Fund, we thought it would be amazing to be able to donate money to people suffering from hunger through our work with World Food Program USA and have an After Hours late night meal from one of our favorite places in LA," Said Tesfaye in a press release announcing the meal.
So not only will you be celebrating the Weeknd, your money will be going towards a good cause and you just might score some free tickets to a show. But is the food any good? Here is the verdict.
After Hours Til Dawn Meal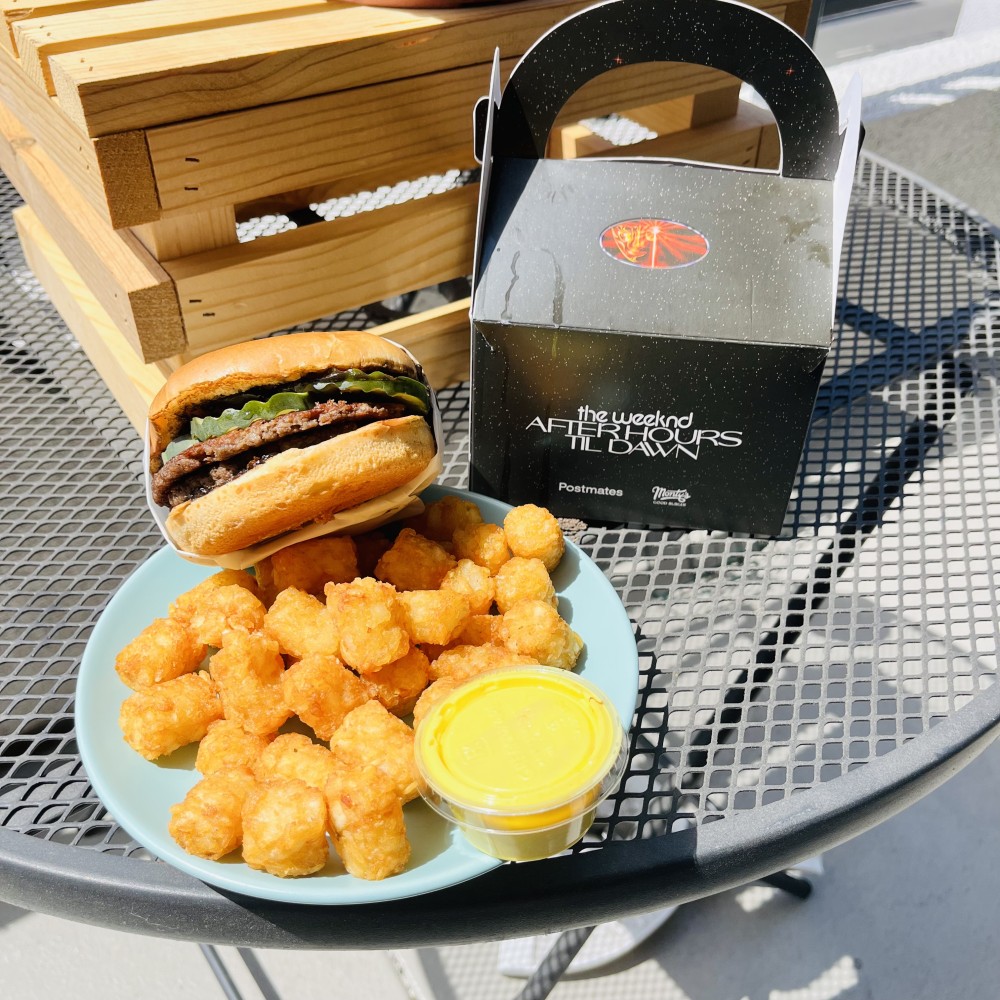 We need to start with the burger since it's the centerpiece of the whole meal. Monty's makes a pretty good Impossible Burger, it has a nice mouthfeel and a subtly charred flavor, but at the end of the day it's still a plant-based burger, so it doesn't have the savory juiciness of the real thing. That's not a problem if you love plant-based burgers, you've probably come to expect that, but if you're a meat eater thinking this burger is going to change your life and set you on a new path, it won't.
Most of the flavor comes courtesy of the black chipotle ketchup, which features a bright tomato-forward flavor with some subtle spice and smoke. It's not hot enough to register on the tongue as being spicy, but it does have a sort of taste-bud exciting kick to it. Thick pickles round out the flavor adding some earthy tang to each bite, but I can't help but feel like this burger is still missing an ingredient. Some sort of slaw or even grilled onions would do a lot to make this burger more flavorful, and considering you can keep the burger vegan and still add slaw, it's a little weird to me that Monty's didn't.
The burger sits on a soft and spongey brioche bun. Overall it's pretty solid, but is in no way essential eating.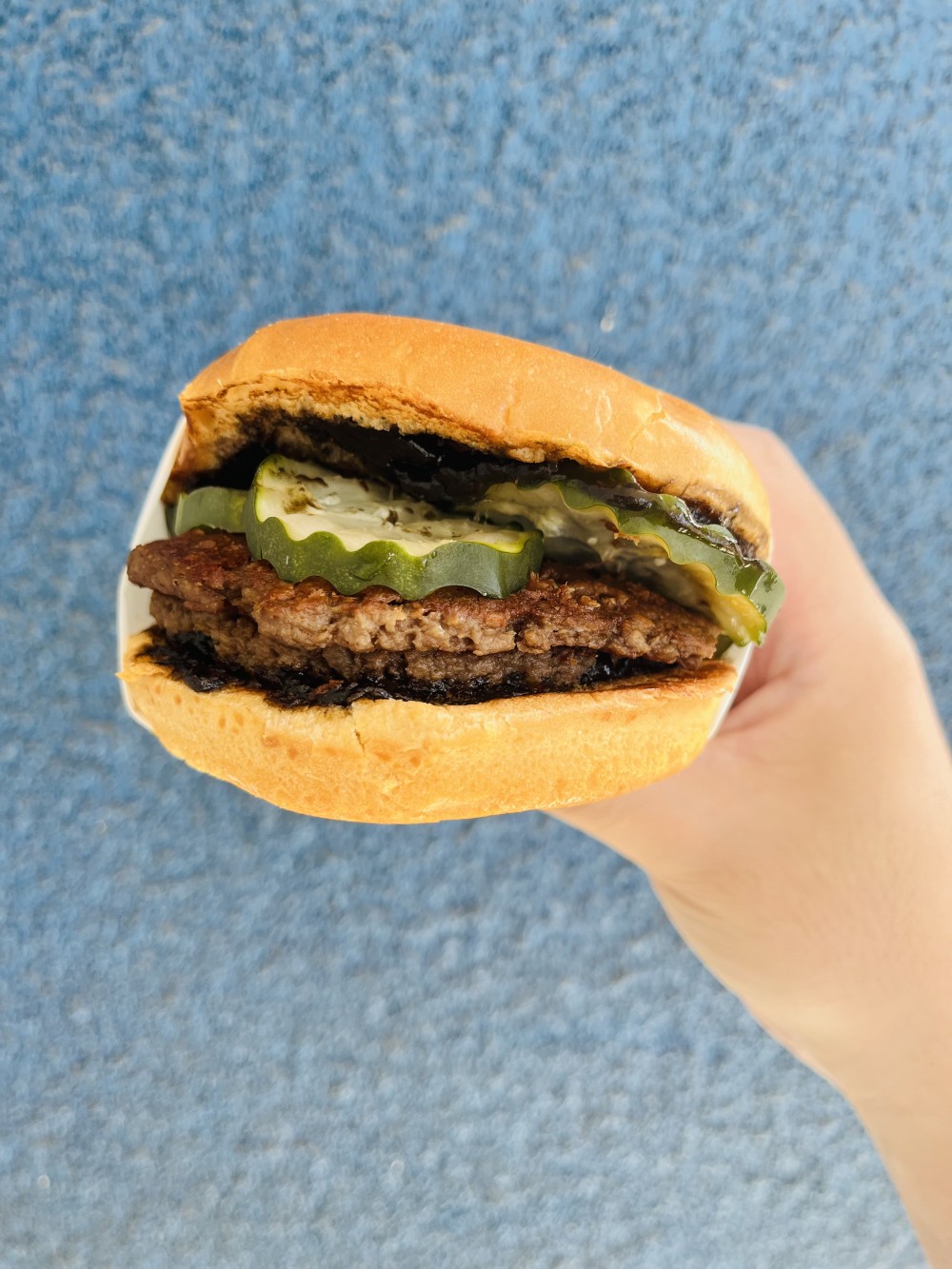 Moving on to the tater tots and, well, I'm not a tater tot guy. These taste just fine to me, they're buttery and potato-y, and the crispiness held up well in transit but Monty's has delicious french fries so I feel a little burned that the meal comes with tater tots and not fries. I'll need to have a word with Abel, I need to know who hurt him and why he likes tater tots over fries. I get that tater tot fans hold a lot of nostalgia for these things, but I'm looking for great-tasting food. Not school time memories.
This brings us to the lemonade.
The Weeknd's meal comes with a very specific aesthetic attached that matches his music, there is the goth Happy Meal box the food comes in, the black ketchup, and now this charcoal-activated lemonade. It looks cool, but at the same time, it also looks like something I wouldn't in a million years want to drink. Even knowing this stuff was lemonade, I still felt scared to drink it, like I was willfully consuming poison.
On the bright side, it tastes great, it's very fresh and lemon zesty, but it will absolutely stain anything it comes in contact with. My teeth, lips, and tongue were all stained purple by the end of the meal, so if you have places to go after the meal, maybe pack a toothbrush.
The Bottom Line:
It's a solid plant-based meal, not good enough that it's essential eating, but delicious enough to satisfy people who love plant-based burgers. If you're ordering from Monty's for the first time, I strongly suggest you go with the fries over the tots, and skip that lemonade for one of Monty's Craft sodas. You'll be breaking from the Weeknd's specific curation, but your meal will be better for it.