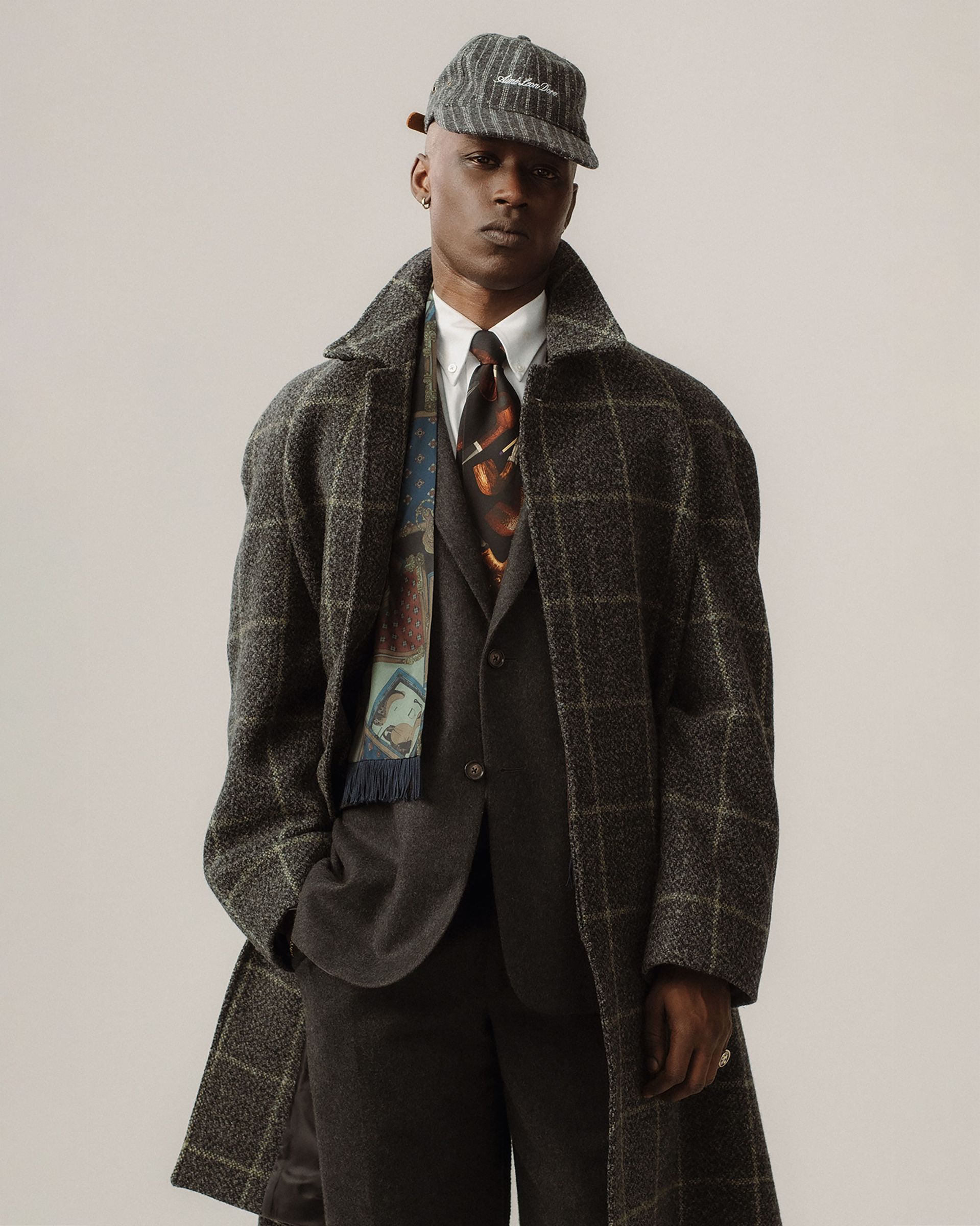 Aimé Leon Dore's seasonal collections have always emphasized at least some aspect of debonair tailoring unusual for a brand so commonly generalized as "streetwear." ALD Fall/Winter 2023 is particularly refined, however, with a heavy bent on bizcas that leans into formality, complete with tuxes.
Sorry kids, this collection's for the adults.
Jokes aside, there are plenty of ALD garms here that epitomize the smart-street balance that's garnered the brand its devoted following and ensured perpetual mile-long queues outside of ALD flagship stores (the coffee probably helps).
Still, alongside the New Balance 990 sneaker collab and NY-branded windbreakers, ALD displays a renewed emphasis on classic menswear for FW23.
The seasonal motif is informed by upholstery-style wool suits, corduroy blazers, pleated slacks, rollneck sweaters, patterned neckties, and mature overcoats playfully undercut by juvenille stripes.
If it all feels very Ralph Lauren, it should. Aimé Leon Dore founder Teddy Santis is an avowed Ralph Lauren disciple. In a recent interview, he claimed to write a yearly letter to Ralph thanking the designer for, well, being Ralph.
ALD's RL worship has earned it some sidelong glances from fans but, then, you can't be successful without incurring a few haters. At least, that's what I'm lead to believe by all those hustler memes.
Anyways, alongside the retro suiting, Aimé Leon Dore has plenty of other sporty, outdoorsy, and semi-inscrutable apparel in store for FW23.
Though the most accessible stuff — ALD-branded baseball jersey, suede shirt, collaborative New Balances (duh) — is likely to also be the best-selling stuff, I appreciate that the brand also tinkers with less obvious tropes, like moto gear, lace-trimmed wool basketball shorts (!), and patchwork-y "fun" pants that layer New York-y posters atop each other in some sort of pastiche of the Go To Hell pant.
ALD is already on top and it's got the die-hards to prove it. Might as well have some fun.
Shop our favorite products