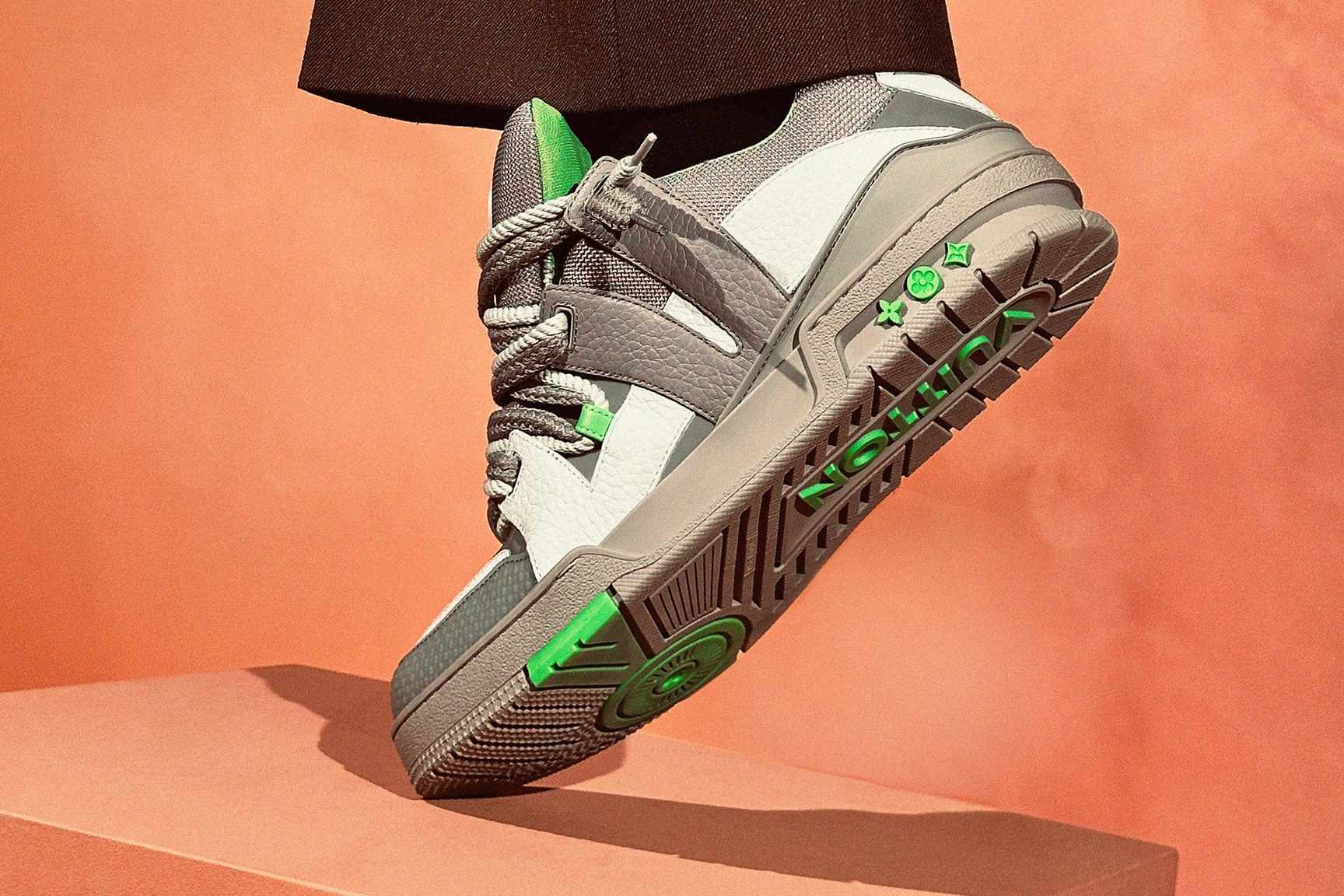 Louis Vuitton was perhaps the first luxury label to truly embrace the skate culture it was drawing inspiration from. Remember when then-artistic director Virgil Abloh created the first-ever signature luxury sneaker for a skater? Good times.
Now, those Lucien Clarke shoes may have been made to thrash but Louis Vuitton's in-line Skate Sneaker, eh, not so much. Not with that four-figure retail price in mind, at least.
So when Louis Vuitton quietly updated its Skate Sneaker for Fall/Winter 2023, you oughtn't expect the sort of stuff that skaters might expect in a board-ready shoe (reinforced toeboxes, grippy soles) but, instead, an extra dose of luxuriousness, which is exactly what you get.
Louis Vuitton's original Skate Sneaker (which is still available and $1,340) wore a mixed-material upper comprising bi-color leather and mesh, with one piece of LV's floral monogram affixed to the shoe's lateral side.
Unveiled for Fall 2023 (and also retailing for $1,340), Louis Vuitton's new Skate Sneaker is basically the same shoe but more. Issued in mostly monochrome colorways, the new-old shoe is all leather up top, with streamlined paneling and a muuuuuch bigger floral accent on its outside.
Otherwise, same giant laces, same "Louis Vuitton" vamp branding, same "1854" hit on the heel. If anything's bigger, really, it's that logo.
LV's Skate Sneaker was always more about the skate vibes than the lifestyle, after all, as most of these luxury shoes are. But if the Skate Sneaker 1.0 had an Osiris-gone-luxe look, the Skate Sneaker 2.0 really looks like latter-day DC or a beefed-up Airwalk.
And then there's the Louis Vuitton Skate Sneaker redesigned by Kidsuper founder Colm Dillane as part of his guest designer collection, which debuts as part of LV Fall/Winter 2023.
From a distance, this behemoth shoe looks even more like an old-school skate shoe, with its overlapping panels of grey and white leather in place of LV monograms, which are moved to the heel, while the laces are now normal-ish-sized but doubled up for extra heft.
If ever any shoe felt like an indirect result of A$AP Rocky's Under Armour collaboration, well, yeah.
They're hardly the weirdest LV design of the season (or even the most eye-poppingly expensive piece of the year) but Louis Vuitton's redesigned Skate Sneakers are oddly engaging in their sheer normality.
Like, to the uninitiated or even from a decent distance, these could totally pass as regular-degular skate shoes. Maybe a little nicer, but yeah.
No diss, either: if you're gonna wear your inspiration as literally as these sneakers do, blending-in is a form of success, right? Cowabunga, dude, or whatever skaters say.