It's been a busy week for A$AP Rocky, who possibly got married, performed at Rolling Loud in six-layered pants, and debuted a new music video that he himself directed. With all the hubbub, it'd be only understandable that you'd miss a quiet Bottega Veneta moment that's perfectly suited to Rocky's taste.
Hidden beneath A$AP Rocky's baggy jeans lays a familiar-looking work boot that looks all the world like the classic Timberland 6″ shoes that Harlem-born Rocky has repped for years, most recently in a Timbs-packed Beats campaign video that Rocky directed.
But, look closer, and you'll realize that these are no ordinary Timbs: they're Bottega Veneta's new boots, as revealed to Highsnobiety.
Rocky's non-Timbs are part of Bottega's recently reformatted Haddock footwear line, which debuted in Bottega Veneta's Summer 2023 collection and will be retooled for the Winter 2023 line with seasonal shapes.
For its debut outing, Bottega's Summer Haddock selection included a yachtable boat shoe while its cold weather Haddocks, which release in September, will take the shapes of loafers and ankle-high boots.
Obviously, A$AP Rocky is rockin' the latter style, a €1,100 (about $1,220) hiking boot with a moc toe, nubuck upper, and clever Intrecciato-woven heel that looks very like an ultra-luxe pair of Timbs.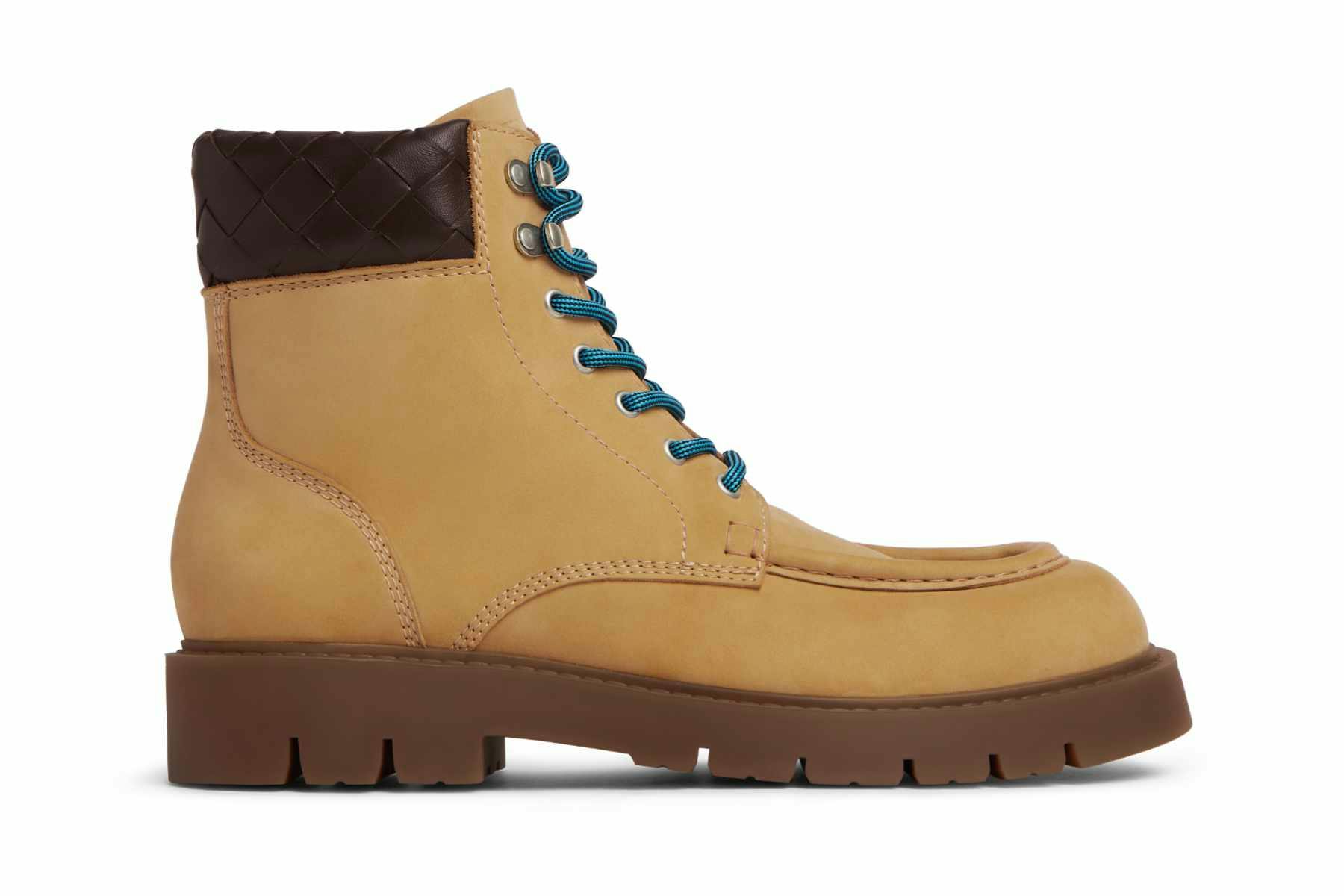 Styled by Matthew Hensen, Mowalola, and himself, Rocky's looks in the "RIOT (Rowdy Pipe'n)" clip have so much going on that it's nearly impossible to pick out a single standout piece.
Like, the Bottega boots are obviously great but what about Rocky's circa-1996 Issey Miyake parachute bomber or his anti-FIFA jersey?
Every A$AP Rocky music video is a bonanza of aspirational style, sure, but "RIOT (Rowdy Pipe'n)" presented a particularly delectable spread.
All of the indie designers who provided custom looks for Rocky deserve a shout-out, which is why we exhaustively listed out his looks for the sake of celebrating not only Rocky's famously good taste but the smaller brands that're getting the Rocky bump.
As far as footwear goes, though, there but for the grace of Bottega goes Rocky.
Shop Timberland boots here