"I want this brand to be a problem for fashion, but a good one," Kid Cudi tells me inside Selfridges, London, following the launch of his debut Members Of The Rage collection.
The label, which is abbreviated to MOTR (pronounced "Motor"), has been a long-time coming for Cudi, who first conceived the idea back in 2016. However, following some lousy samples and a period of self-reflection, the idea was shelved.
Five years later the Day 'n' Nite rapper, real name Scott Mescudi, revisited the project during a period of COVID-induced quarantine with a new lease of life and a refusal to not be defeated.
A few months later, after consulting with Nigo and the late Virgil Abloh on various facets of the brand, Cudi shared images of the first MOTR pieces by way of $400 T-shirts, before taking to Paris Fashion Week in early 2023 to present the Fall/Winter collection he launched today.
The designs were inherently Kid Cudi: streetwear staples infused with notes of luxury, and steeped in his personal taste, of course.
As I sit beside him on a plush corduroy sofa inside Selfridges' VIP section following the launch, you can tell he's stoked.
His brand, which has been seven years in the making in total, has debuted exclusively at Selfridges, and less than an hour in it's already selling out. So, can you blame him?
Let's start from the beginning: how did MOTR get to where it is today?
I first came up with the idea to start a brand in 2016. I had some samples made and they came back terrible, so I became discouraged and stuck to doing music with some movies on the side. It wasn't until 2021 that I started getting back into it. I was in New Zealand in quarantine for two weeks and needed to occupy myself, so it felt like the right time to really hash the brand out properly.
So MOTR might not have come to fruition if it wasn't for COVID?
Exactly. I think without being forced to have free time, I wouldn't have ever sat down and developed it. I spoke to Virgil who was really supportivem and then reached out to Nigo for guidance on the logo. We went back and forth for a month or so and then we had it. It was pretty spot on.
What were the conversations like between you and Nigo?
It was a back and forth. I was sending him references and giving him ideas of the kind of logo I wanted: something that felt iconic and clean; simple, but colorful. I wanted to make t-shirts with big logos on them, so it had to be good.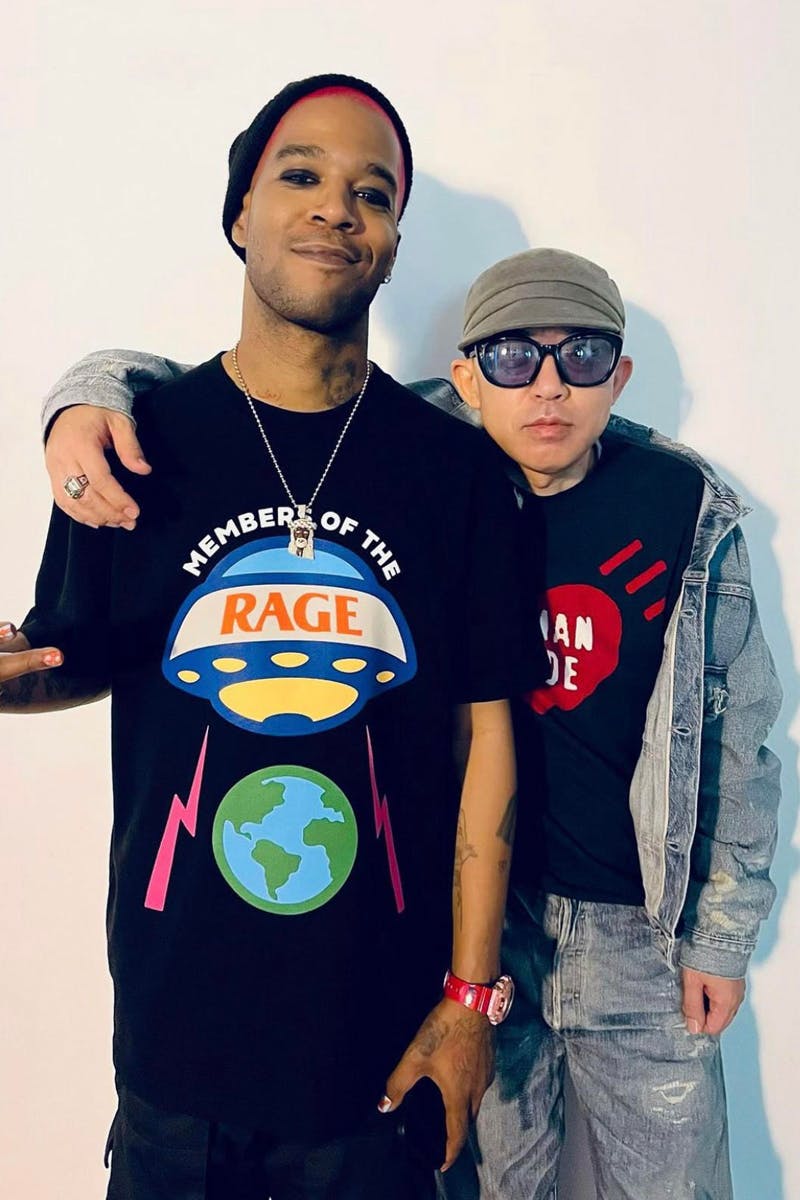 How did you begin to design the collection we're looking at today? Where do you even start?
Our first design session was in early 2022 in Paris. We were there for about a week. I knocked the collection out in three days because I had so many ideas that I'd been sitting on since 2016. I had so much shit to bring to the table. It was surprisingly easy. It also helps when you have a team around you that can help you articulate your vision. It took us about 12 months to get the first collection to where it is now. You only get one first impression as a new brand, so it had to be right.
For a debut collection, the offering is extensive. Was this intentional?
Absolutely. My friends kept telling me that designers don't usually have shoes in their debut collections, but I wanted to be taken seriously on my first outing. I didn't want to look like just another rapper doing another clothing line. This is me delivering a complete look. Every designer knows it isn't easy making sneakers, so I saw it as a challenge I wanted to master.
What was it like designing a sneaker?
I wanted to make footwear that I thought could get better with time. Something that could get worn in and aged and still be cool to wear. I love getting a crispy pair of white sneakers, but I also love rocking a pair of Converse. I wanted to make a shoe that could stand the test of time.
How does it feel to design your own clothes?
It's an unreal thing. I woke up this morning in London, not for a show, not for a movie, but to debut my clothing line at Selfridges.
Were you nervous?
No — it's the first time in my career I haven't been nervous about promoting. When I'm promoting a movie I'm always nervous. Something before a show I feel like I need to take a shit. But this was different. I wasn't nervous. It felt like I was talking about my music. Ask me anything about my music and I'll chat for hours.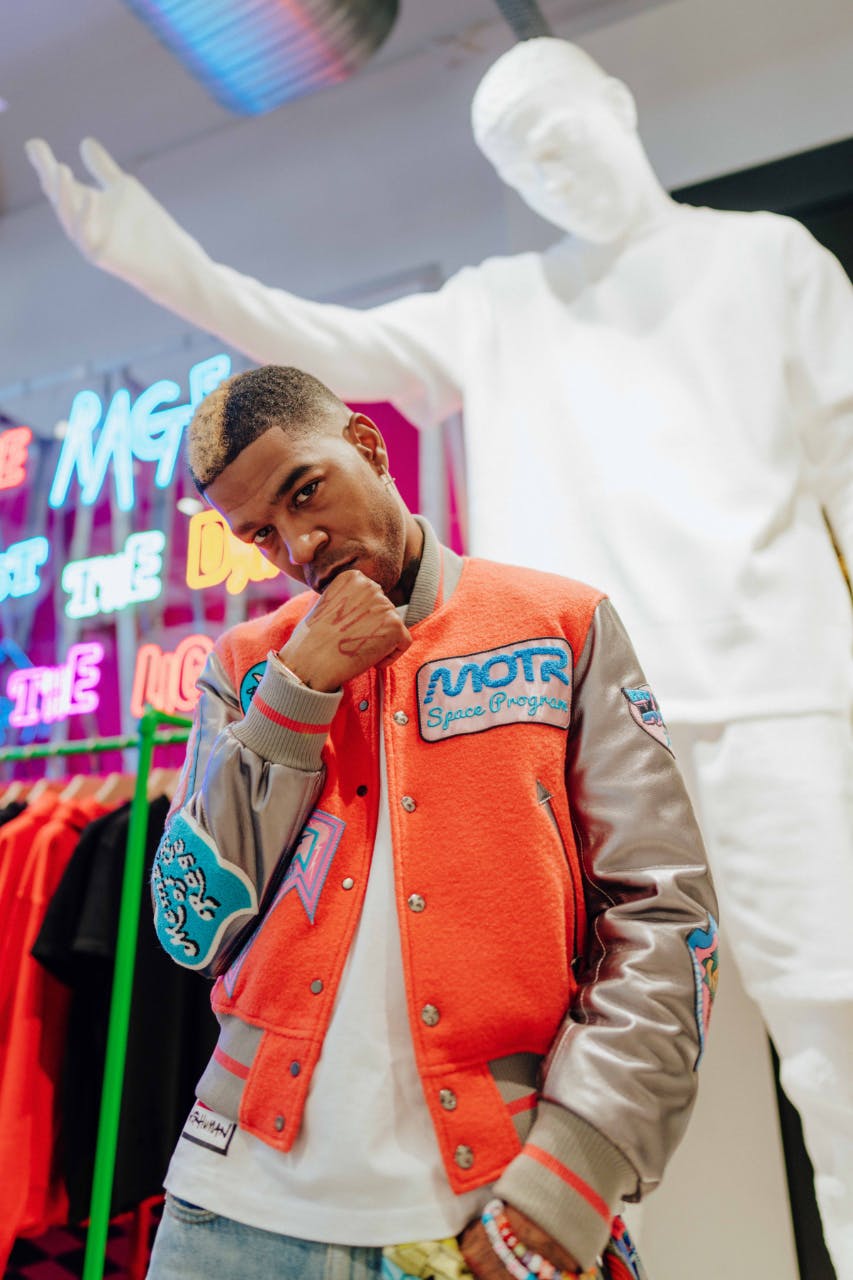 Is there anyone or a period in particular that influenced this collection?
Kurt Cobain was a huge influence. Also the late nineties hip-hop era, when everyone was wearing old school Avirex varsity jackets. I'm also inspired by the colors in Doug from Nickelodeon and the outfits that "Skeeter" would wear. I can pull inspiration from anything really: music, pop culture, animation. It comes from everywhere.
I suppose this approach keeps everything original, right?
That's always been my talent: to be able to be inspired by somebody, but not duplicate. Which is hard for a lot of artists. For me it's about liking what X is doing here and what Y is doing there and then fusing them together to create something new.
Finally, what are your intentions for Members Of The Rage?
My goal is for Members of the Rage to be one of the biggest brands in the world in the next five years. I want it to be a household name. I want this brand to be a problem for fashion, but a good one. People see MOTR and see a Kid Cudi brand, but this isn't a game. I have goals. We're coming for the top. I look at what Virgil did [with Off-White™] and that's the template. If I can do even half of what Off-White™ did for the culture, then I'd be than happy.
Shop our favorite products