Brand: MSCHF x Crocs
Model: Big Red Boot
Colorway: Yellow
Release Date: August 9, 2023
Price:$450
Buy: MSCHF's website and MSCHF Sneakers App at 2pm EST via raffle
Style Code: MSCHF010-Y
MSCHF is bursting with good ideas so you can't blame the art collective for iterating on some of its biggest hits. Following the world-dominating success of the Big Red Boot, MSCHF and Crocs have remade the cartoonish shoes in the shape of SpongeBob.
Meet the MSCHF x Crocs Big Yellow Boot, modeled by Paris Hilton. Seriously.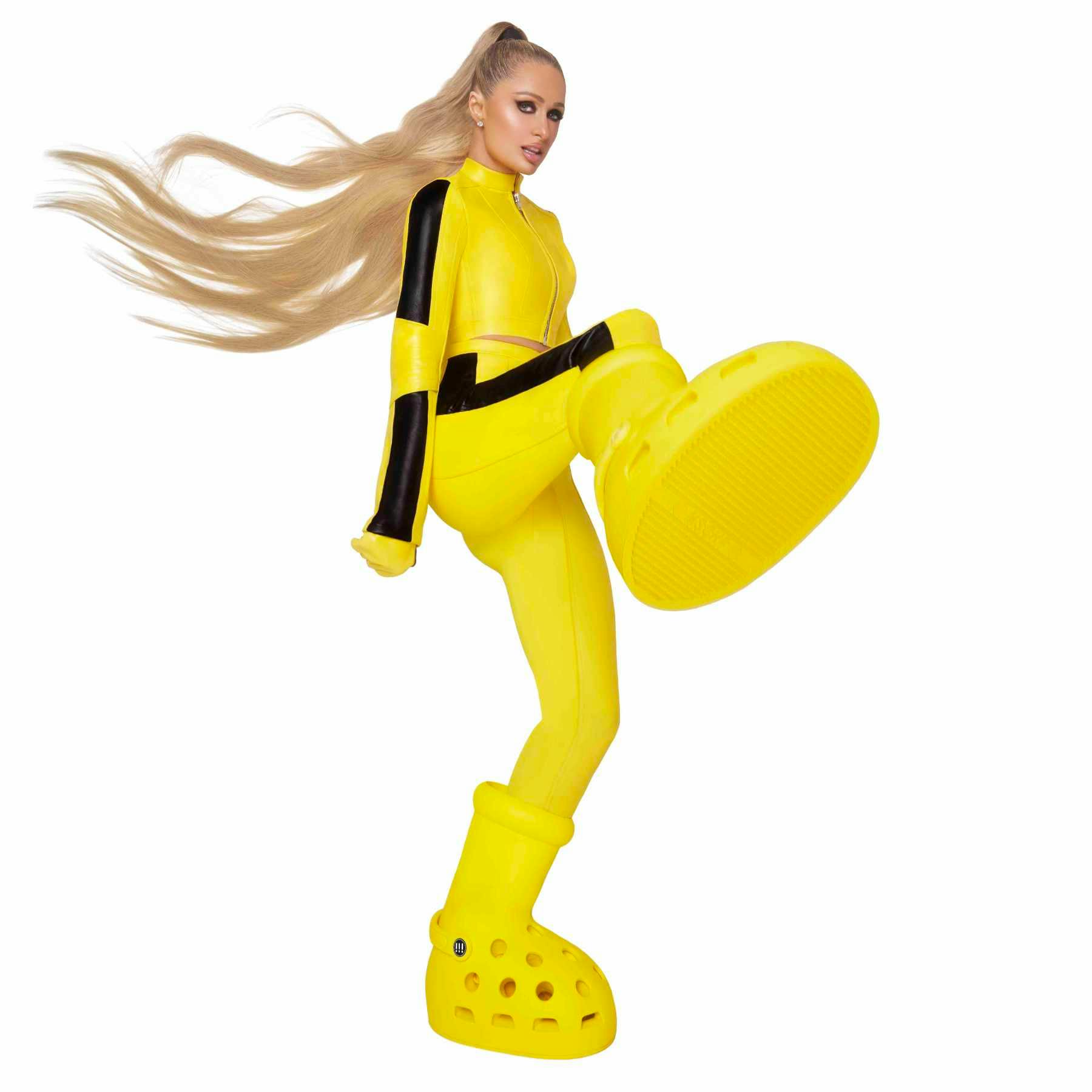 The queen of Y2K, she of the Juicy Couture velour sweatsuits and UGG boots, stars in the debut campaign for MSCHF and Crocs' giant yellow Boot, wearing the enormous rubber non-clog look while dressed as Kill Bill Barbie.
More specifically, Hilton is seen dressed in either a very Uma Thurman black-and-yellow get-up or a head-to-toe, crystal-encrusted "SLIVING" bodysuit. Just Paris Hilton doing Paris Hilton things.
MSCHF and Crocs' collaborative boot was actually revealed during the most recent round of Paris Fashion Week but not by Paris Hilton, which would've been appropriate.
Instead, professional prankster Tommy Cash introduced the world to the MSCHF x Crocs Boot, which is really just a yellow, semi-Crocs-ified version of the original Big Red Boot.
In fact, though the MSCHF x Crocs Boot isn't red and it's got all the perforations necessary to distinguish itself from the OG, it's also just called the Big Red Boot.
Presumably the unreleased black iteration of the Big Red Boot will following the same confusing but brand-appropriate naming convention.
Prior to the reveal of the MSCHF x Crocs boot in June 2023, MSCHF confirmed to Highsnobiety that the collaborative yellow shoe is still manufactured by MSCHF in a specialty factory capable of creating the Boot's thick, one-piece rubber frame.
The Crocs elements — perforations, heel strap — are just thematic additions that add necessary flavor, whereas the nuts and bolts are all MSCHF.
You only realize once you get these things in hand how necessary that distinction is, though: the "Big" in Big Red Boot is for real. These things are thick, heavy, and substantial in a way that the many dupes could never hope to accurately imitate.
Between the torrent of fresh Big Boots, MSCHF has remained shockingly busy, dishing a deluge of sneakers (including a Kid Cudi collab) and more of its low-brow high-concept "drops." The latest MSCHF project asked fans to hand-trace Bee Movie frame by frame, for instance.
Between the price and design, MSCHF and Crocs' Big Boots are destined to be one of the more marmite MSCHF efforts but, then again, maybe we really ought to be looking at these things as art pieces, not shoes. I mean, the Paris Hilton co-sign alone elevates them to, well, something.
Shop our favorite products