Newsflash: open-toed shoes are in! Oh, wait, it's almost summer? And warm enough to supersede the necessity for socks. Ah. Not news.
But wait: what if I told you that it wasn't just open-toed shoes that were hip and happening, but freakish footwear that pedestal the pedis in ways that are both shocking and horrifying, at least to those of us who'd much prefer feet to neither be seen nor heard.
Yes, fashion's latest foot fetish is to go borderline barefoot (for free?), a terrifying proposition indeed. That being said, your feet don't necessarily have to be the ones on display.
The most palatable and prevalent form of today's foot-forward fashion is the transparent shoe. Over the past several months, it's evolved from niche oddity to omnipresent flex.
For instance, there are currently no less than four- or five-dozen see-through shoes currently for sale on e-commerce giant SSENSE, with seasonal iterations churned out by luxury labels like Simone Rocha, LOEWE, and The Row, the perennial provider of barely-there footwear.
Indeed, it's not just transparent shoes: even slight shoes are on the rise.
The minimal coverage of Birkenstock's Madrid sandal fits the taste, yes, but more of the moment are sheer, stocking, and mesh shoes, breathable summer-y stylings that barely obscure the foot.
New York designer Sandy Liang is sitting pretty here, having devised not only her own mesh shoes but also collaborative Salomon slides with opaque knit uppers (instantly sold out, natch).
Again, this is The Row's territory — is there any trend that the Olsen Twins haven't predated? — but even footwear giants like Vans are dabbling with mesh and the like.
I see the low-key, hardly-visible, and mesh shoe boom as an extension of the ongoing fascination with sheer clothes.
"Naked" shoes aren't quite as audacious as clothes that barely hide the human form, of course, but they sure ain't dissimilar.
Sheer clothes and shoes both expose parts of the body typically unseen, scarcely masking that which lies beneath. If anything, sheer clothes are even more evocative than bare skin because they imply the scarcest attempt to cover up. It's like self-inflicted voyeurism.
So those sheer shoes, yeah, they're all well and good.
But then there are the cartoonish non-feet that are almost worse than actual toes. If you thought toe shoes were bad, wait until those fake piggies are wearing fake toenails or coated in metallic gold
Like with sheer clothes, this cartoonish magnification of reality results in an uncanny valley effect that's more affecting than the real thing.
The implication hits harder because it takes the imagination for a spin.
For instance, what's worse than bare feet on the red carpet? How about the gilded toes built into Schiaparelli's signature leather boot, each hand-sculpted ridge emphasizing detail?
The foot-shaped shoe is such familiar territory for Schiaparelli that the couture house has since evolved from the gilded feet to glove-like heels pre-imprinted with toe creases.
This is where we're at with toe shoes nowadays: individually-rendered toes are passé.
Even the OG of fashionable feet footwear, Balenciaga, has long since moved on from Vibram's nightmarishly inimitable barefoot runner, the Five Fingers.
Whereas Balenciaga was once willing to push the envelope no further than a spring-heeled toe bootie, the fashion house has joined Schiaparelli in creating shoes that merely whisper of the foot inside, a technique previously explored by only avant-garde designers.
Oh, don't get me wrong: Balenciaga is still forcing the viewer to contend with the wearer's dogs. For example, its ridged slip-on, a seasonal design not yet available to the public, is curved around an imaginary set of feet.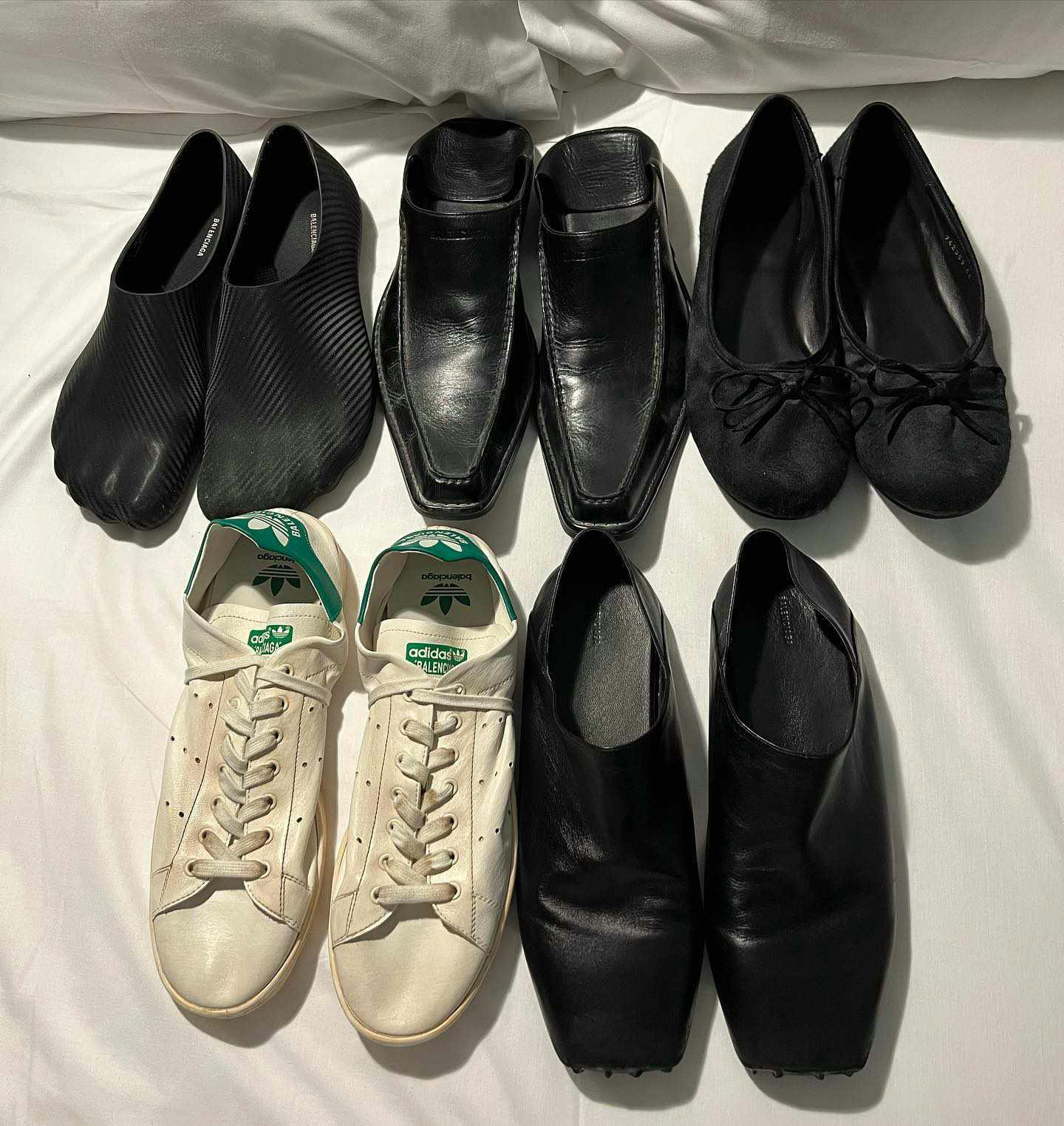 The lack of detail makes Balenciaga's foot shoes look like part of a low-res PlayStation 2 character model. Again, uncanny valley.
And, if you think that's bad, consider taking off your shoes entirely. Well, that's what Balenciaga proposed for Winter 2023.
Balenciaga's return to the runway included models clad in tights and socks, utterly unshod. This represents the latest terrifying evolution of the foot shoe: all foot, no shoe.
On the plus side, the toes are mostly obscured. On the negative, no shoes.
This footwear-free look recently went more mainstream thanks to fashion's resident far-right crank, Kanye "Ye" West.
Despite — or perhaps due to — perpetual demand for his YEEZY sneaker line, Ye is simply done with shoes.
In recent weeks, for instance, Ye's been spotted wearing little more than neoprene water socks and MMA shin guards with tights. No shoes, no service, no problem.
Now, far be it for me to suggest that Ye remains a role model (he certainly ain't) but it must be acknowledged that his predilections were once indicative of streetwear's soon-to-be prevailing tastes. I'd argue that too much weight is given to his supposed prescience but, still.
Given Ye's deserved outsider status, too, you can't argue that he still holds as quite much sway. His socks aren't setting the tone for fashion at large.
So I don't consider Ye singularly representative of the un-shoe movement but merely part of it.
Also, to be clear, I don't see the more extreme foot shoe biz going mainstream. It's more of a coincidental quirk than a proper trend, though it may hint at rising demand for low-impact footwear with a minimal silhouette.
Plus, foot-emphasizing footwear has existed for a while; it crops up on the runway now and again, frequently in trompe l'oeil form, without ever becoming a thing. Point being, feet shoes are too niche to have any real legs (ha).
They are still immensely unpleasant, either way.
Shop our favorite products