Ok, how many of you would say that The Little Mermaid is your favorite Disney film? If that's you, then it's time to dip your toe in the SIMONMILLER x MANGO collection.
SIMONMILLER (from designer Chelsea Hansford) is the epitome of playful luxury, Valley Summer and California West Coast vibes. It's bright, it's bold, it's raffia, it's sequins — it's quite literally a fearless party-style ode to summer. MANGO, on the other hand, is the European counterpart of this. Oozing a laid-back sunset aura, the Spanish brand is celebrated for its Mediterranean elegance and artisan history, so you can only imagine what happens when the two come together this SS23.
The SIMONMILLER x MANGO summer capsule is inspired by the world that lies under the ocean. Think coral forms and abstract shapes meet turquoise waters and seaside textures like net and straw. Bringing a more playful approach to classic luxury, the collection is colorful, youthful, carefree, and actually just a whole lot of fun.
Patterned wavy skirts and shell-clasped tops take center stage alongside striped knits, fishing net dresses, and more bold beachy delights. Color is key when it comes to this drop, with the vibrant prints giving a sense of freshness to the pieces. As for the fabrics, MANGO couldn't have gone more summery if it tried. Natural fibers like linen and cotton are the big players, while other materials reminiscent of surf and scuba diving suits as well as towel-textured tops also make an appearance.
Of course, the garments are a hit, but actually, both brands wanted to place special importance on the accessories — which are really giving Ariel under the sea and Ariel on the sand. The chunky red foam-like sandals are the pièce de la résistance, but then again, so are the balloon glasses, maxi hats, raffia bags, and star-shaped signature SIMONMILLER necklaces.
Just like how SIMONMILLER x MANGO brings a sense of vibrant (positive) disruption to the peacefulness of the Mediterranean, we wanted to do the same with our campaign. Drawing inspiration from Spanish surrealist artist Salvador Dalí, whose art has been mostly inspired by and created next to the Mediterranean, we looked at his symbolism of the egg. Creation, birth, love, hope — the egg is a known motif throughout his work, becoming a sign of local creative heritage along the Catalan coast.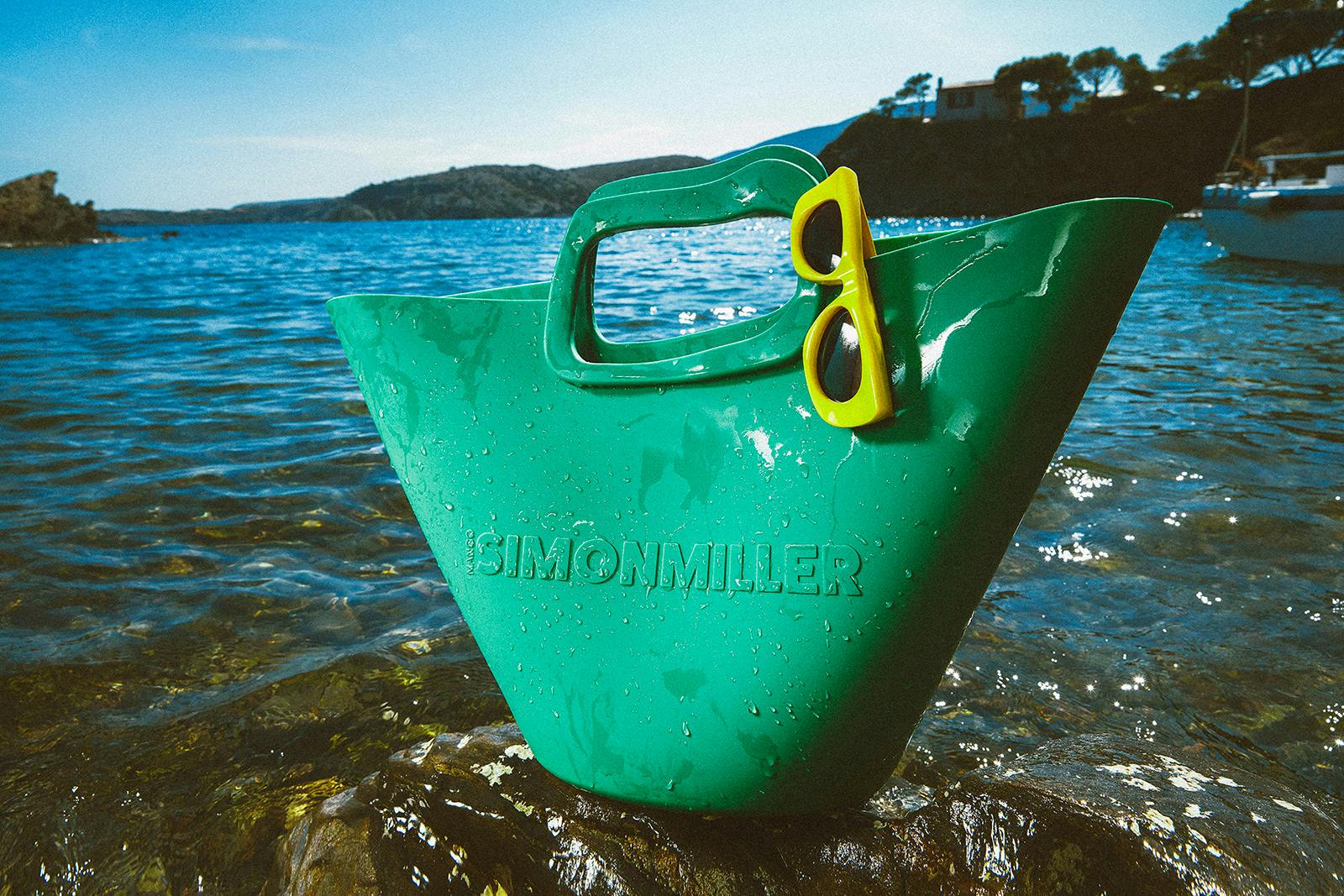 By dropping an egg into the sea and having someone break out of it into the seascape, not only are we nodding to the locals who know the reference, but we reflect that moment of movement and energy against the calm mise-en-scene that the capsule collection does in a sartorial way.
SIMONMILLER x MANGO is the New Mediterranean, and we are here for it. Costa Del Sol, Costa Del Mar, Costa del Wherever-You-Are, this collection has got you summer, sea, and sand ready.