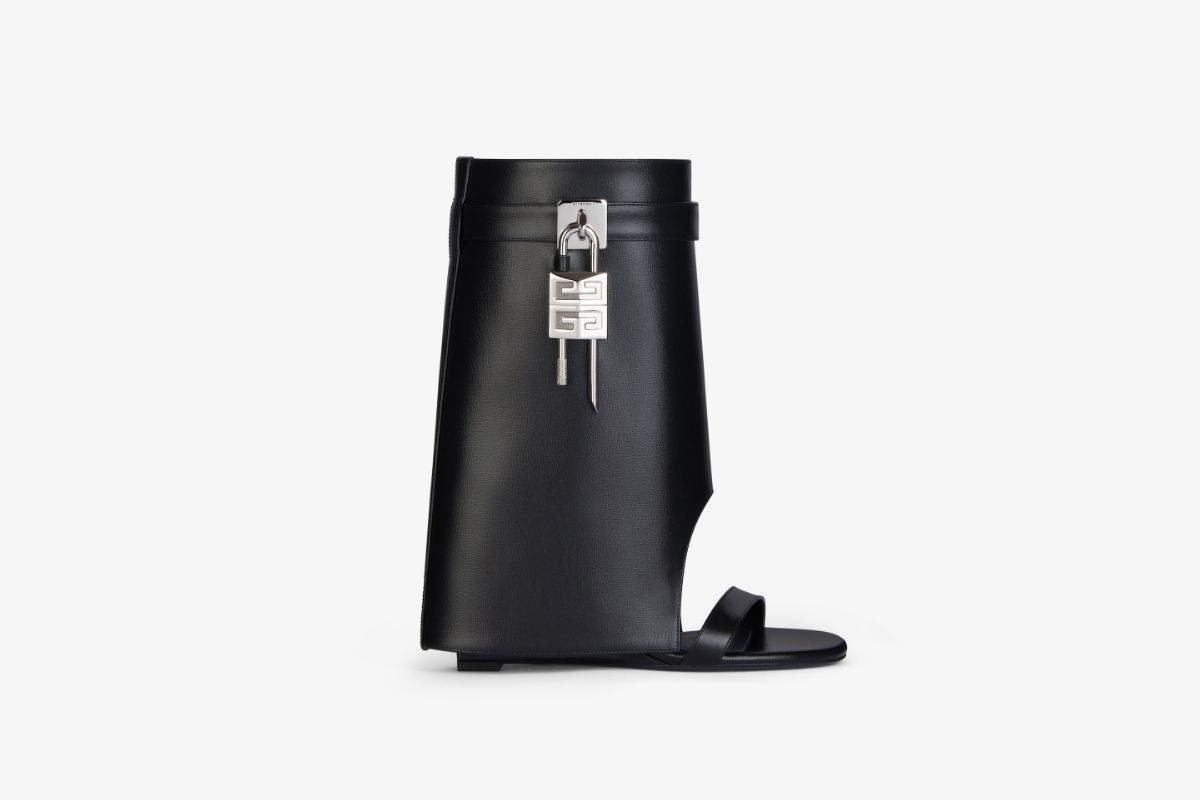 Summer is just around the corner, ladies and gentlemen, which means bye-bye boots and hello sandals…or not, according to Givenchy's latest move.
Remember the Shark Lock Boots? The house, helmed by Matthew Williams, has turned its celebrity-beloved and highly-duped boots into open-toe ankle sandals for the warmer season. Seriously.
Givenchy reimagines the 2010s boot as a summer shoe, cutting the toe cut out and adding a leather strap inserted to keep the foot secured. The results? The Givenchy Shark Lock sandal, of course.
Aside from the sandal action in the front, the latest Givenchy shoe is still pretty much the Shark Lock boot elsewhere, evident with the revamped Givenchy lock, wedge heel, and tubular calf-length shaft — classic details of the OG shoe that derived its name from its distinctive "shark lock" (the original metal clasp was shaped like a shark's head).
The Givenchy Shark Lock sandal arrives in a black leather option ($1,395) and a satin version dripped out entirely in shimmering strass ($4,595), both available on Givenchy's website.
We've seen this summer-izing of past shoes done by Balenciaga, too (remember when the two dropped the same sandal?). The house recently turned its Triple S and 3XL sneakers into mules ahead of the warmer days. It's safe to say the two minds think alike.
The Givenchy Shark sandal definitely makes me scratch my head a bit — and I wasn't alone; quite a few Twitter users weren't feeling the sandal-fication of the Shark Lock boot.
Amongst the divisive reactions were folks who — as they say — "see the vision" (translation: they're into somewhat into the shoes). Indeed, the sandals are quickly selling out, with quite a few sizes already sold out.
Well, bouncing off one tweeter here, I will say: the Givenchy Shark Lock sandal definitely makes a case for luxuriously dressing up an ankle monitor.
Shop our favorite products