Who was best-dressed at the Met Gala 2023? Let's take a look as we've ranked all of the best red carpet looks from the May 1, 2023 extravaganza.
We've listed both the best celebrity outfits and this year's worst-dressed from the Met Gala's red carpet, informed by the Met Gala 2023 theme of "Karl Lagerfeld: A Line of Beauty."
Attendees were tasked with dressing to "honor" Karl Lagerfeld, which on paper means Chanel, Fendi, Chloé, and perhaps even the high-street Karl Lagerfeld brand. However, as always, not everyone follows the rules to a tee on the the first Monday in May, so plenty of surprises were in store.
All we can expect, for now, is appearances from A-listers like Rihanna and Kim Kardashian, who was most certainly invited, thank you very much.
There was no need to sneak into the Metropolitan Museum's ultra-exclusive event. If you stuck with us, we picked out all the best (and worst) looks that the Met Gala 2023 had to offer. Maybe we'll finally have reason to update our historic list of best-dressed Met Gala moments.
Harvey Guillén
And just like that, Harvey Guillén has arrived in a pretty-in-pink tweed ensemble by Christian Siriano.
Penélope Cruz
Loving Penélope Cruz's new role as a Chanel queen.
Dua Lipa
Dua Lipa stuns in a Chanel Fall/Winter 1992 Couture gown and Tiffany jewels, styled by Lorenzo Posocco.
Rita Ora & Taika Waititi
Rita Ora and Taika Waititi's couple slay: no notes.
Emily Ratajkowski
In Tory Burch, Emily Ratajkowski looks quite classic.
Anok Yai
Excuse us while we pick our jaws up off the ground after this Anok Yai moment.
David Byrne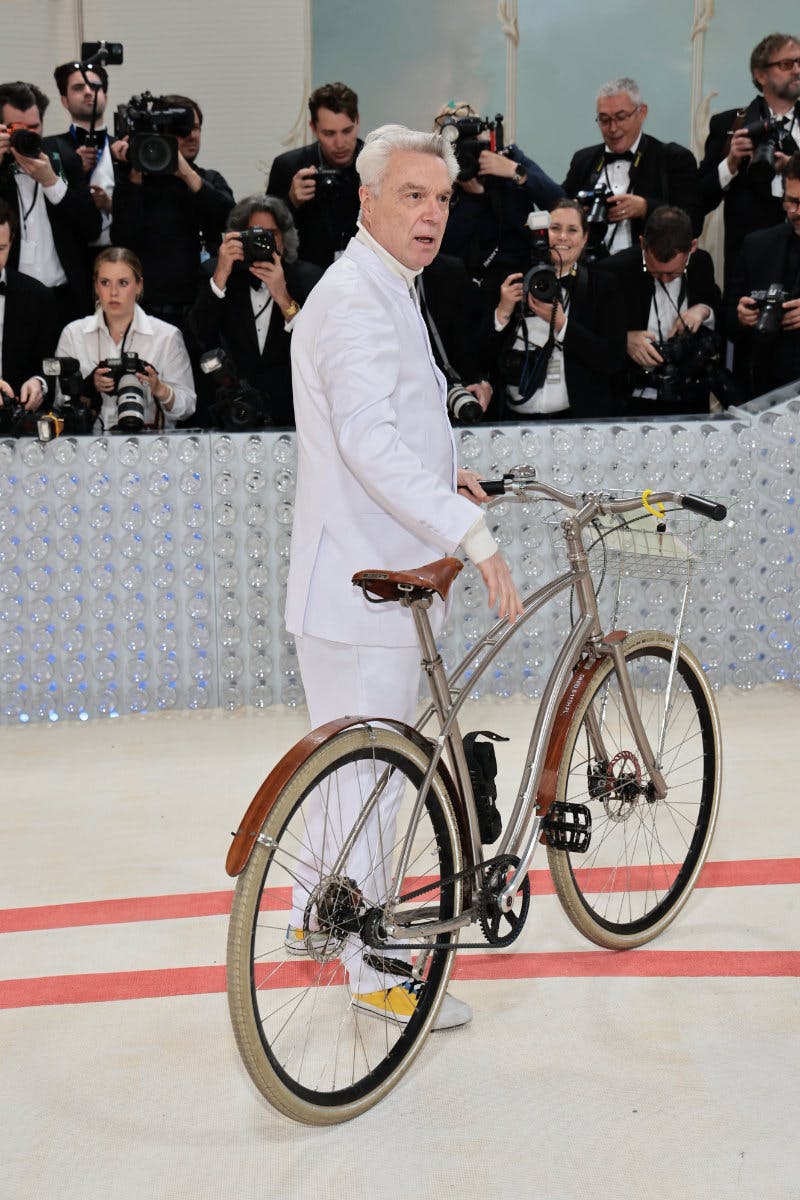 David Byrne, the king he is.
Olivia Wilde
While outfitted in custom Chloé, Olivia Wilde issues a tasteful nod to Karl Lagerfeld's days at the house and his famed violin dress.
Gabrielle Union and Dwyane Wade
It's no days off when it comes to the Wades delivering looks. And the Met Gala is no exception.
Emma Chamberlain
It's Miu Miu and Cartier jewelry for the Emma Chamberlain.
Gisele Bündchen
Ice Spice
The rumors are true: the people's princess makes her Met Gala debut in Balmain!
Michaela Coel
Kate & Lila Moss
'Tis a mother-daughter slay, courtesy of Fendi.
Robert Pattinson
*adds to Robert Pattinson meme folder*
Jessica Chastain
Doja Cat
One thing about Doja: she's going to nail a theme (hint: Karl Lagerfeld's cat, Choupette).
Lil Nas X
Anne Hathaway
Anne Hathaway, you'll always be famous.
Brittney & Cherelle Griner
Here for Brittney and Cherelle Griner's tonal Calvin Klein looks.
Bella Ramsey
Bella Ramsey in Thom Browne? 10s across the board.
Michelle Yeoh
Ah yes, another Michelle Yeoh slay for the books.
Jenna Ortega
Our scream queen left no crumbs.
Jeremy Pope
Jeremy Pope presents: the Balmain Karlpet.
Pedro Pascal
Cardi B
Cardi B's Chenpeng Studio look is just stunning. They don't call her the Met Gala queen for nothing.