I should start by saying that I do work out … kind of. Not in the, "I recently completed the Brooklyn Half Marathon," sort of way, but I do get on the treadmill or drag myself to pilates at least every week. When I hit the gym, I sometimes do a Nike Training App session (including the finisher), and sometimes I don't even exercise enough to break a sweat.
The bottom line is, if anyone asked me if I was an athlete, I'd quickly and confidently reply, "No".  It turns out I'm not the only person to feel this way – plenty of women wouldn't call themselves athletic either.
This was all brought to the surface the other month when I visited Nike HQ to celebrate its women's 2023 collection. Here, the relationship between women and sport is studied and encouraged and made into a science. Using HQ's impressive facilities – temperature-controlled rooms for fabric and sweat tests and pressure-sensitive plates to measure performance on their indoor track – Nike Women's 2023 collection was born.
All of the highly anticipated suspects you'd expect to be at Nike's facilities in Beaverton, Oregon were present – pro athletes, Nike trainers, and partners in the world of dance, design, style, and photography all chimed in with their personal experiences with movement. OG Hot Girl Meg Thee Stallion even made an appearance.
Throughout every panel discussion, demo, and collab preview, the same message swirled around: to make women confident in their movement, products need to be made authentically for them. To do this, Nike has dropped a line that supports the movement of women through all stages of life. From innovative product developments to investments in sports accessibility, it's clear that Nike is dubbing 2023 the Year of The Woman.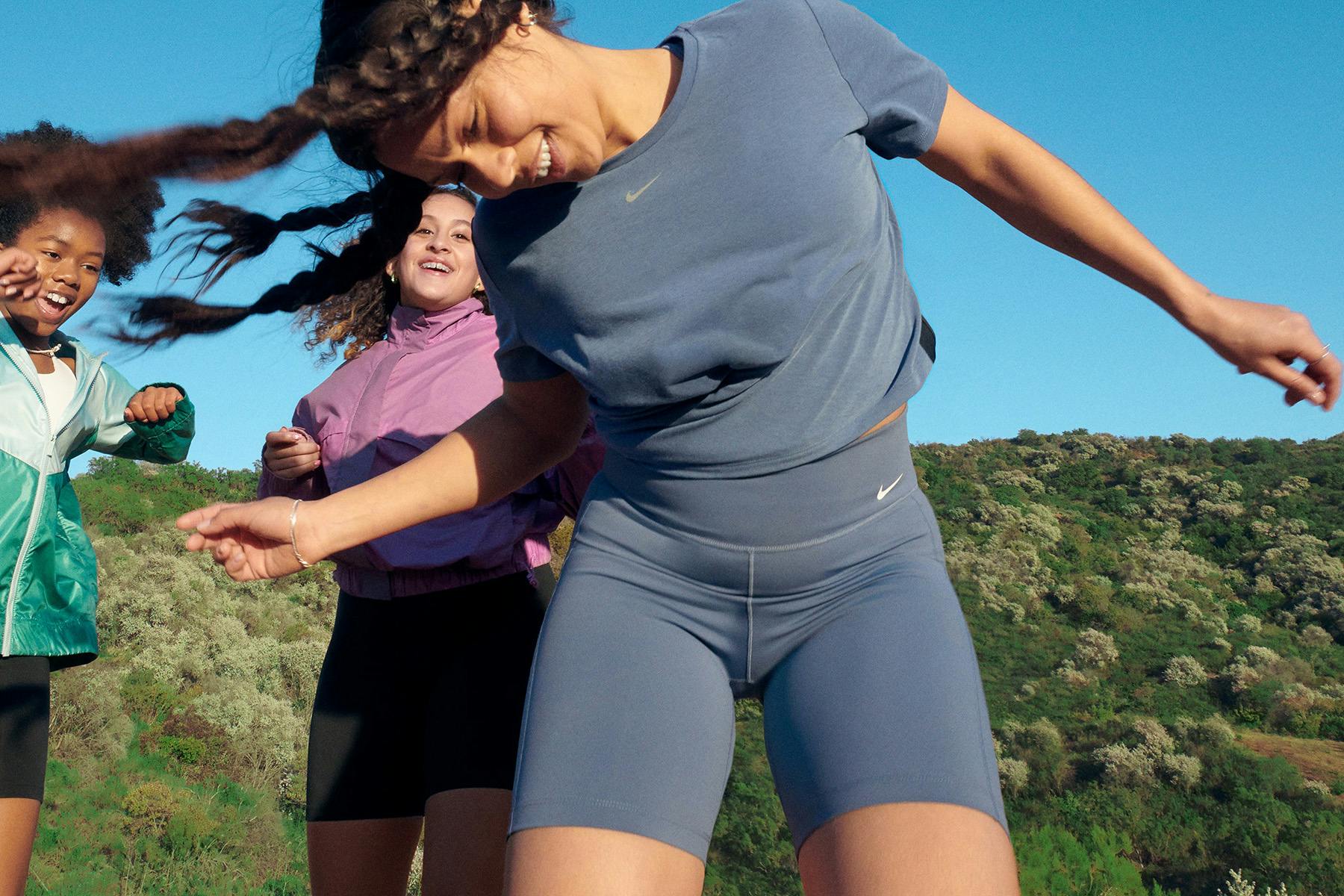 Statistics show that 64% of girls will have quit sports by the age of 16-17 – uncoincidentally around the same time as puberty. Furthermore, 70% of girls avoid trying new things during puberty because they are too afraid to fail. Understanding the weight of being shamed out of movement at an early, impressionable age, Nike was inspired to create Nike Leak Protection: Period.
Nike Leak Protection: Period is an ultrathin, absorbent liner that helps protect against period leaks, so teens and adults can continue doing what they enjoy with peace of mind."My 15-year-old self would have loved to have this discussion because [when I was younger] menstruation wasn't talked about, but I wish it was," US Olympian Tatyana McFadden said after getting hands-on with the product. "We shouldn't be embarrassed about this."
Made to be worn in addition to a tampon, pad, or cup, Nike combines a two-layer laminate gusset and liner that absorbs, wicks and holds blood with a membrane that acts as an anti-leakage barrier. The result is a layer of confidence, if you will, so that all women can feel confident in sports – no matter their age. "Fear of bleed-through is real — and not just through the teen years, but through the entire journey of menstruation," says Lisa Gibson, Senior Project Manager, Nike Apparel Innovation, "[Nike Leak Protection: Period] an innovation that we believe will change people's lives."
The life-enhancing sportswear doesn't end here. Most recently, Nike has released the Motiva sneaker, a silhouette designed to bring ease to walking, jogging, and running. The Nike Motiva's most distinguished feature is its rocker geometry. The sneaker is curved up at the toe and soles so that movement is fully supported and driven with every stride.
The idea stemmed from an observation that Nike pulled from its Run Club app. While women averaged 13-minute miles, most users fluctuated between a run/walk/jog to achieve their goal. Through countless other studies, Nike sought to create a shoe to support women through movement, whatever that may look like (my "I'm not an athlete" self felt seen).
The Nike Motiva ushers in a new standard for women's sneakers. Every detail, from the Cushlon 3.0 to the ComfortGroove bumps on the outsole, supports women to keep moving forward.
As for the future of Nike Women, we can expect more trailblazing initiatives to come to life this year.
Before wrapping up my time at HQ, I caught up with the iconic dancer and choreographer behind Rihanna's Super Bowl halftime performance, Parris Goebel. Goebel is one of the many women in Nike's inner circle who are looking to amplify future support and representation throughout women's sports. "My therapist says that dance is such a pure expression of the soul so we want to bring that feeling to even more people," Goebel explains of her recent work with Nike.
"I want to bring more accessibility to the sport of dance specifically. Growing up, I didn't see women doing what I do who looked like me. Dancers work just as hard as any athlete, and my team and I are here to bring more visibility to that." Considering Nike has already dipped into dance with its Air Sesh sneaker — a lightweight, flexible dance shoe designed by Tinker Hatfield himself — we can expect to see its dance category reach new heights with the direction of Goebel. In a recent IG post with Nike, Goebel hinted at more to come with the caption, "You'll soon see all the amazing things we've been working on."
Stay up to date with the latest from Nike Women at nike.com/women.