In the beautiful game of football and across sports at large, a shirt (or jersey) is the most important piece of merchandise you can own. A uniform that unites teammates and fans across the globe, there's great pride in wearing your team's badge.
Season-to-season shirts evolve; from a flurry of training kits to the three-piece rotation of home, away, and third. Although every season has its bangers, the 90s remains the golden era of English football shirts, begging the question; will they ever be as good as they once were?
As fans, we've enjoyed a pretty strong season where kits have been concerned. Dipping out of the Premier League for a moment – adidas has held a strong stride with its World Cup selection across men's and women's, while Venezia FC has retained its expectedly strong form.
On home turf, it's been a season to remember, too. Arsenal sitting at the top of the league with nine games to go (despite a Kim K curse), Chelsea dropping below 10th despite record spending, Ronaldo departing Manchester United to Al Nassr, Conte's explosive Tottenham rant, and a nail-biting relegation battle.
The kits have been pretty sold, too. Again, all praises to adidas, which reconnected with Arsenal for three of the team's best shirts in recent history, with similarly strong touches for Manchester United, while Nike's shown strikes of brilliance across Liverpool and Chelsea.
One thing you'll notice from the 22/23 season is a return to collared shirts across many teams, with the two reds (Arsenal and United) mentioned above leading the charge with their home stripes.
Collars on shirts are by no stretch of the imagination, particularly groundbreaking, but harken back to the 90s, when you'd struggle to find shirts without a button-up collar.
It's a classy touch, exuding class and sophistication, and above all, it looks damn good.
Scanning through the extensive archive of shirts on offer at Classic Football Shirts, a Manchester-based brand that's doing the legwork to bring attention to the best shirts the game has ever had to offer, it's hard not to long for 90s design sensibilities.
The comeback of collars and daring prints that we've seen throughout the current season shows that brands are dipping their toes in that 90s nostalgia, but it's high time they dunked their heads in and went all the way.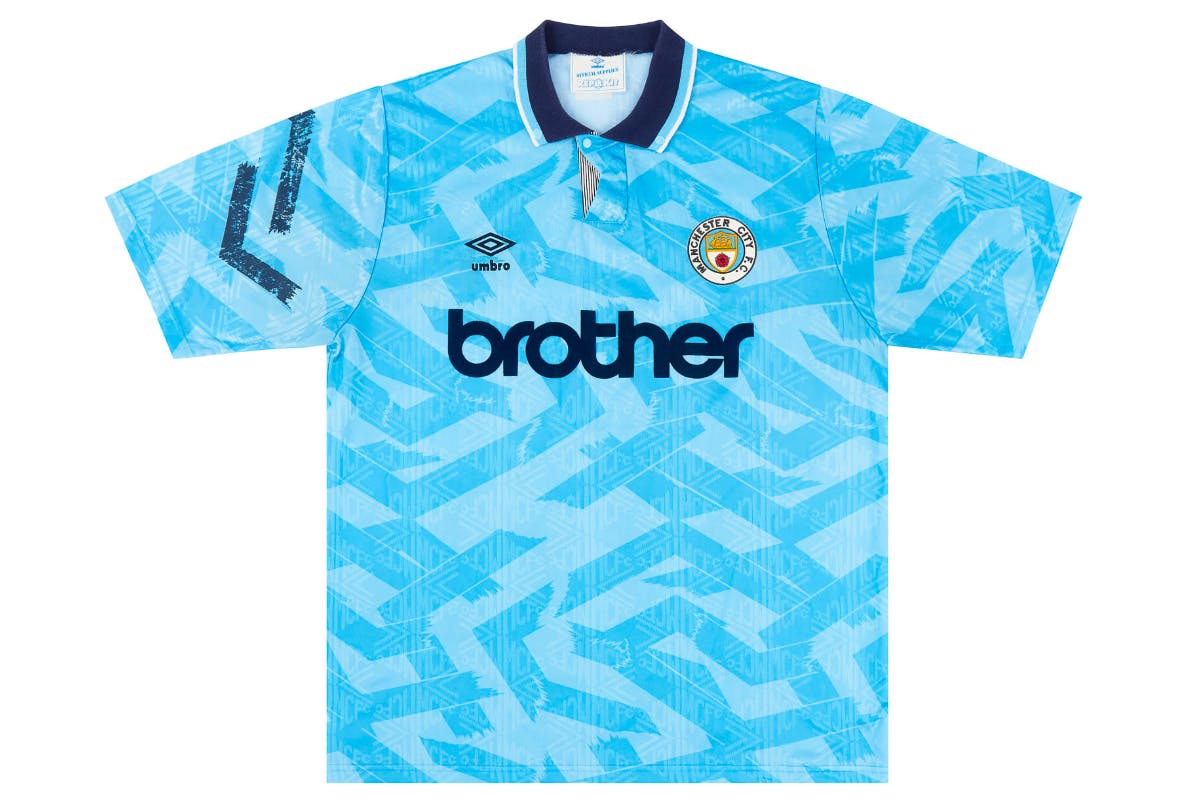 Flicking through the countless pages of Classic Football Shirts' site, filters set to seasons between 1990 and 2000, you'll quickly find your tabs filling up with shirts from teams across English leagues; rivals or not, it's hard not to fall in love.
One thing's clear; kit designers in the 90s created without fear; they were risk takers, opting for bold options that often prioritized monochromatic prints, touches of flair, and an extreme passion for the colors of each team's crest.
United, City, Everton, West Ham, Arsenal, Fulham, and even Tottenham have seasons of brilliance, and that's before diving into some of the lower leagues.
For me, perhaps biased as a Luton boy, there's no better example of the strength of 90s football shirts than the absolute banger that is the Luton Town 1990-92 away by Umbro – bold orange contrasts fill a pattern that's as rave-ready as it is pitch-worthy; pure class.
While kit designers continue to demonstrate moments of brilliance, there's a stark lack of consistency, which feels absent from 90s options.
If leaked kits for next season are anything to go by, some of the great work done during 22/23 will be undone, making a return to the magic of the 1990s unlikely.
Is it too much to ask for designers to go all out on nostalgia and bring back some classic beauty? Perhaps, but it's always worth taking the shot.
Shop our favorite products