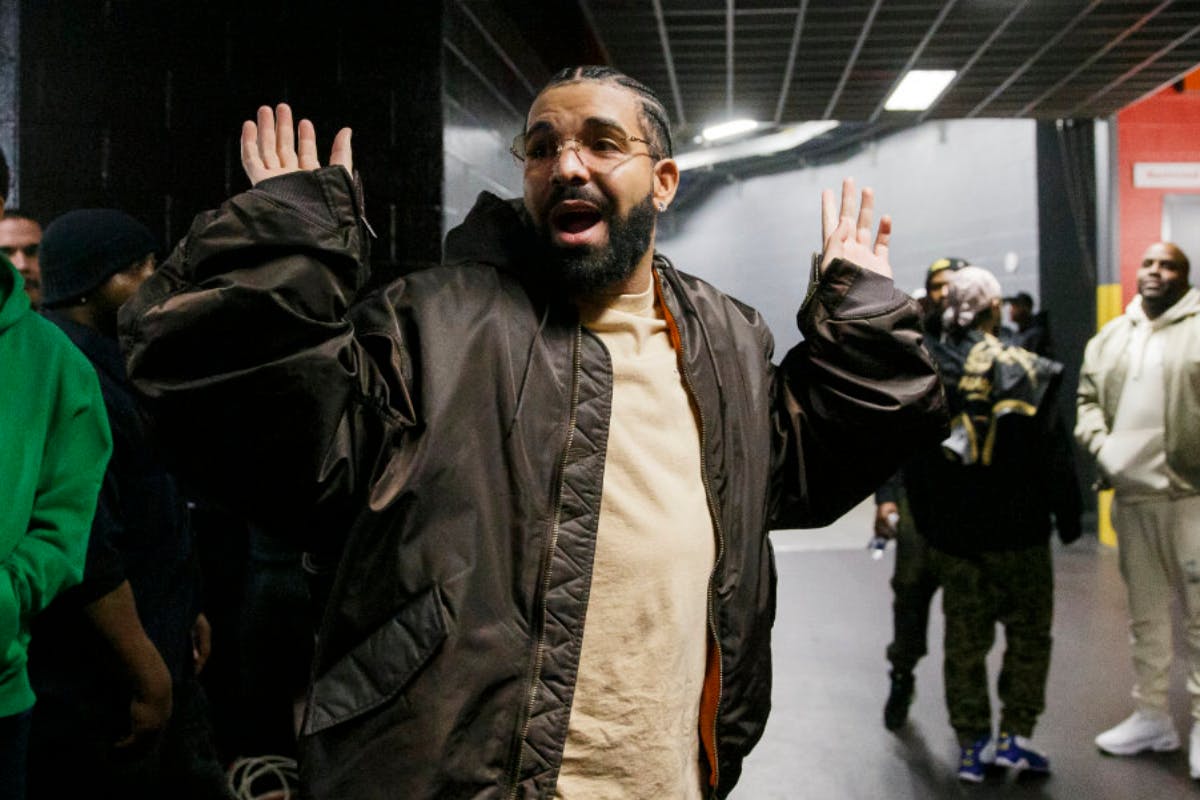 It looks like Drake has new tunes on the way. In his Instagram stories, the self-proclaimed Champagne Papi teased an unreleased song produced by BNYX — that samples Kim Kardashian's voice. Yikes.
In the song reportedly titled "Rescue Me," you hear the SKIMS founder say, "I didn't come this far just to come this far and not be happy."
I know what you're thinking, and to answer your question: yes, the song (and sample) are real. Specifically, Kim's voice snippet is from an old scene on the since-ended Keeping Up with the Kardashian series (though, the infamous family turned around and launched the Kardashians on Hulu just months later).
In the finale, Kim talks about her then-marriage with mom Kris Jenner. It's essentially the moment Kim realized she wanted a divorce from Ye, formerly Kanye West.
This isn't the first time Drake put one of Kanye's exes on his song. OG Drizzy fans may be remember that "Faithful" (featuring Pimp C and dvsn) included Amber Rose's voice saying, "I'm high maintenance a little bit but not in a negative way. I just like extremely expensive things."
Given Drake and Ye's shaky past (and rumors that Drake and Kim K. secretly dated), fans immediately saw Drake's sampling as a shot at the MAGA-hat-wearing musician, and understandably so.
On Her Loss, Drake subtly confirmed that he still wasn't cool with Kanye. On the track "Circo Loco," he raps, "Linking with the opps, bitch I did that shit for J. Prince."
If you recall, J. Prince is the music exec who helped Drake sign to Young Money — and reunited the Canadian musician with Ye for the Free Larry Hoover concert in 2021. At the time, the lengthy beef between the musicians seemed over.
But with these recent shots fired by Drake, it appears Drake ain't ready to settle his scores with Ye. Perhaps, even more after Ye's antisemitic comments which ended his adidas partnership (in case you forgot, Drake is Jewish).
Regardless, new Drake is always a good thing, and this latest track sounds like another one for the simp books. Will Drake drop this song as a single soon? Does the 6 God have more in the vault for, say, another album? Find out next time on Dragon Ball Z.
On the other hand, what's up with these tour prices?