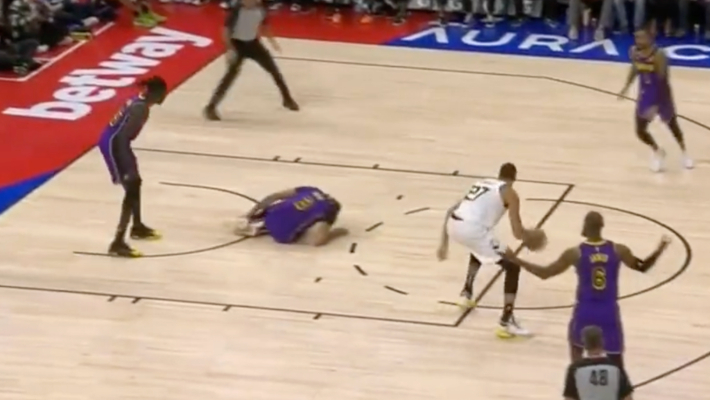 With six and a half minutes left in the third quarter of Friday night's game between the Los Angeles Lakers and the Minnesota Timberwolves, Anthony Davis went down with an injury. While holding his ankle after he failed to secure a defensive rebound, the ball bounced into the arms of Rudy Gobert, who stood at the free throw line and opted to kick it out to Mike Conley, who missed a three.
It was an 8-point Minnesota lead at the time, and in the immediate aftermath, the Lakers ripped off a 20-2 run, built themselves a lead, and ended up picking up a 123-111 that put them above-.500 for the first time this season. The moment where he opted to pass to Conley apparently stuck with Gobert, and after the game, he looked back on that as the moment where his decision to not be "too ruthless" cost his team.
Asked Rudy Gobert if the sequence that followed Anthony Davis rolling his ankle was a turning point in the game.

"It was actually. When I think about it, it's almost like when that happened, we lost our talent. It was crazy." https://t.co/HixVf5WapD pic.twitter.com/BzmzGgsv2p

— Dane Moore (@DaneMooreNBA) April 1, 2023
In fairness to Gobert, Wenyen Gabriel was standing under the rim and D'Angelo Russell was in the vicinity if he decided to try dunking, while Davis laying there was also an impediment. But at the very least, the Lakers are probably extremely happy that Gobert decided to pass in this situation, especially if it did, indeed, lead to things snowballing for the Timberwolves and letting them go on a run.
As for Davis, he ended up being ok — he stayed in the game and went for 38 points and 17 rebounds in the win.