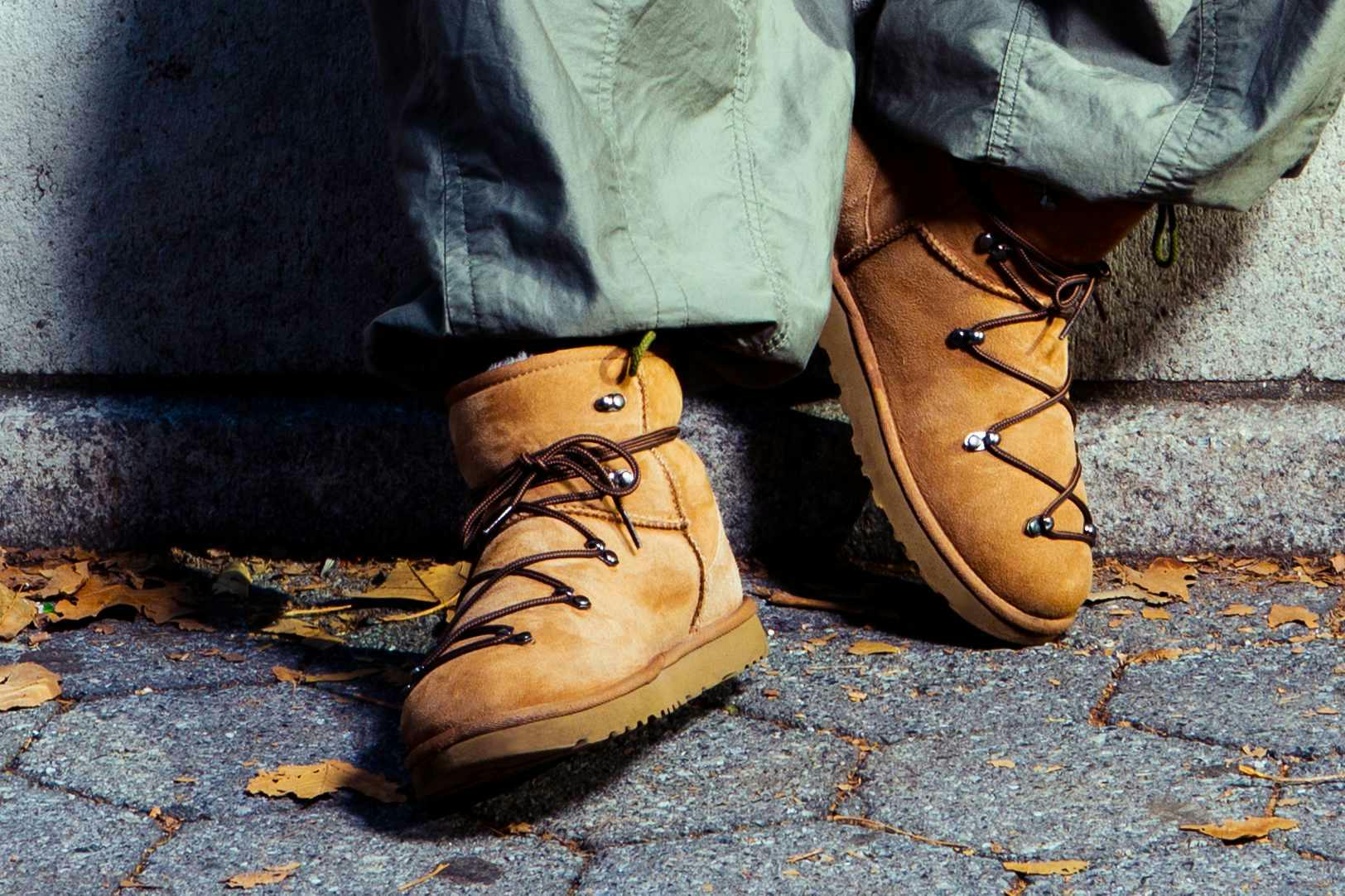 Advisry's UGG boots are not a collab. But they are a fully-formed reframing of the familiar fleece shoe, shifting its shape into something almost alien with one weird trick. Surfers hate it! Hikers on the other hand…
The Advisry UGG boot is not a collab, mind you. It's simply a bespoke twist on the comfycore staple and comments on two contemporary "trends," if you will, at once.
Therein, you have the cozy appeal of the UGG boots made gritty by the functionality of a hiking boot, granted by thick cord laces and aftermarket hooks from which they're laced.
UGG's classic boot is perfect in its unperfectness. It's a wonderfully awkward slice of chunky comfort, made a must-have not just by its ubiquity but also by its approachability: if the UGG boot wasn't a slip-on, would it be the cultural icon it is?
So, why would anyone add laces?!
"I became obsessed with UGG last winter," Advisry founder Keith Herron told Highsnobiety.
"I started thinking of ways I could modify the boot to give it a more androgynous feel. The solution ended up being much simpler than my starting point: just add laces. Because it's a bespoke creation, I needed to find a way to add the laces with materials that already existed. That's how it became hiker-style."
It's an elegantly simple and effective idea. Anyone can paint or dye an UGG but it takes a certain sort of someone to affix laces to a shoe that was originally envisioned without 'em.
The end result is a toughened-up take on the classic UGG boot, its thick, treaded sole now looking more appropriate for the mountains than the beach or sidewalk. The juxtaposition is almost pleasantly unpleasant — it looks so wrong that it must be right.
Advisry's UGG boots will be available at a New York pop-up on April 1 that'll only close when the $250 shoes sell out, which shouldn't take long: the pop-up was planned for mid-March but Herron had to push it back to account for demand.
Herron's quick to point out that his brand is much more than bespoke UGG boots.
These shoes aren't necessarily indicative of Advisry's overaching ethos, he says, though "the process behind the creation is [pure] Advisry. The philosophy behind the brand is in working backwards from full concept to final product."
Advisry is itself a proper ready-to-wear brand that's attracted press for runway shows and plucky DIY spirit but, though they don't speak for Herron's work entirely, the UGG boots are as good an intro to Advisry as anything.
Shop our favorite products