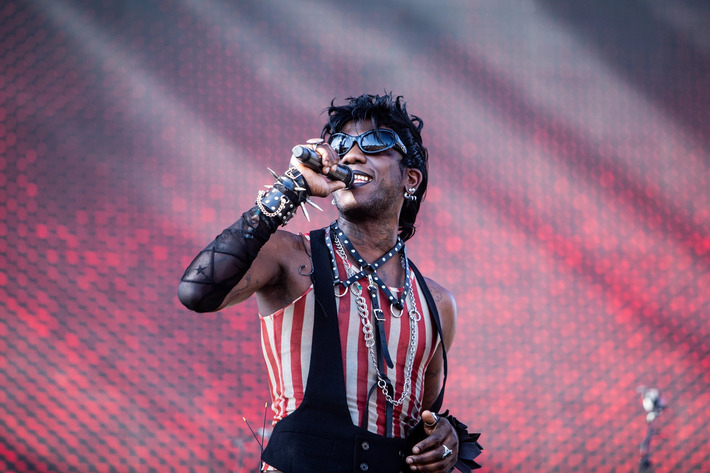 Every month, Uproxx cultural critic Steven Hyden makes an unranked list of his favorite music-related items released during this period — songs, albums, books, films, you name it.
1. Yves Tumor, Praise A Lord Who Chews But Which Does Not Consume; (Or Simply, Hot Between Worlds)
It's not quite radical enough to qualify as "experimental" and not quite catchy enough to work as a full-on pop move. But sonically it's one of the best-sounding indie albums of early 2023. With the assistance of Noah Goldstein, an engineer who worked on My Beautiful Dark Twisted Fantasy, and Alan Moulder, who's one of the great architects of '90s alt-rock, Praise A Lord invites you to get lost in its grooves. It's a very good headphone record. The instrumental tones are on-point. On my podcast, I've talked semi-seriously about the "upscale Måneskin" lane that's opened up in indie, in which artists are once again embracing sleazy rock vibes but with a tasteful flair. Yves Tumor might own that lane now.
2. Ratboys, "Black Earth, WI"
The latest single by this very likeable Chicago band was my most replayable song of the month. At more than eight minutes, "Black Earth, WI" takes its time getting to the titular rural destination, and most of that time is taken up by a long, epic guitar solo. Anyone planning on taking a road trip in the near future is well-advised to cue this song up.
Speaking of guitar solos, the king of indie jam returns with this great live album, in which he extends old favorites like "Telluride Speed" and "The Halfwit In Me" well past the 10-minute mark on a series of thrilling improvisations. Also, because Ryley is also a master of patter, you also get a funny comedy album tucked between the long jams. Who could ask for anything more?
4. M83, "Laura"
This synth-pop institution released their first album in seven years this month, and it felt like a conscious return to the sweeping cinematic sound of 2011's landmark Hurry Up, We're Dreaming. I can't say that Fantasy always hits the mark, but the highs on that record — and "Laura" for me is the highest high — prove that Anthony Gonzalez is still the best at making retro '80s-sounding music that aches with deep and heartfelt melancholy.
5. Lankum, False Lankum
This was the slow burn favorite for me this month. On paper, it might sound daft: It's a traditional Irish folk record put through a post-rock filter, basically like if the Pogues sounded more like Sunn 0))). I don't know how to explain it but there's something metal about this record even though it's not metal at all. Maybe it's because of the album cover, which makes them look like a Profound Lore band. But it's the most beautiful "coming out of winter" music I've encountered this season.
6. Lana Del Rey, Did You Know That There's a Tunnel Under Ocean Blvd.
I have two immediate thoughts about this record: One, I think it's her best since Norman Fucking Rockwell. Now, 2019 is really not a long time ago, but it did feel like she had a bit of a hangover with Chemtrails Over The Country Club and Blue Bannisters. What I appreciate about LDR is that she's one of the last old-school rock stars we have left. Unlike virtually every other big-name artist now, she appears to have zero interest in coming across like a normal person. And I really appreciate that. It makes her seem less predictable than her contemporaries, even though she has an extremely well-defined persona by now.
My other thought is that this album is at least 20 minutes too long, and it feels like it's 40 minutes too long because there are virtually no drums. Seriously, I would love it if a jam band would lend LDR one of their drummers so we give these songs a little more pep. Nevertheless: Seems like one of her best LPs.
7. The Hold Steady, The Price Of Progress
Can you believe this band turns 20 this year? Yet another instance of life slipping away from me. Things that helped to shape my life in my 20s and early 30s are now multiple decades old! This new album is another collaboration with producer Josh Kaufman, who entered THS' orbit via Craig Finn's solo albums. His project has been helping the band expand its sonic palette, which in this case means a lot of synths, strings, and keyboards. At the same time, there are songs that reference Robert Plant and LeBron James, so it seems like a happy medium between a "mature" sound and the band's classic themes.
8. Dazy, OTHERBODY
Last year, Virginia-based singer-songwriter James Goodson released his charming debut full length OUTOFBODY. A very fun and catchy record that breezes by in 26 minutes, OUTOFBODY is punky power pop with zero perfect fat. Apparently he left some gems on the cutting room floor, because he put out an EP this month that feels like an extension of the full-length. Funny enough, OTHERBODY is barely shorter than its predecessor, clocking in at eight songs in about 20 minutes. But it hits even harder.