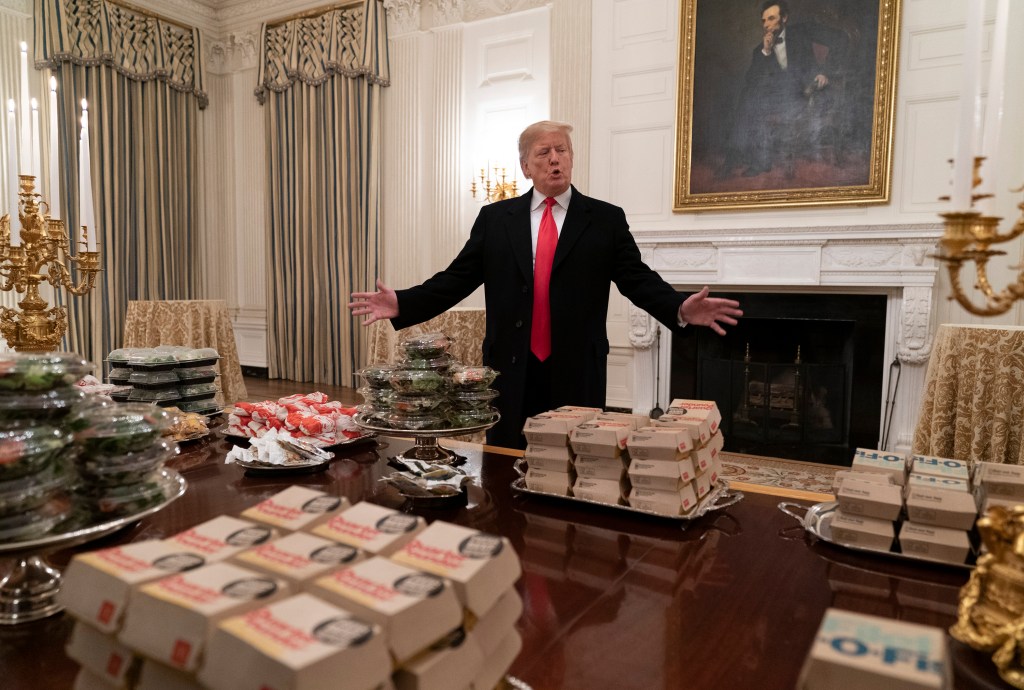 Donald Trump has a lot of criminal cases against him, and the one that got to him first wasn't even the most consequential. On Thursday, some nine days after he predicted it would happen, the former president was indicted by a Manhattan grand jury over his alleged hush money payment to porn star Stormy Daniels. The news made him the first president in American history to be hit with criminal charges. Congrats? Sure enough, congratulations is exactly what some on social media facetiously said to him.
It's official: Donald Trump is the:

1st man in the Oval Office to be impeached twice

1st man in the Oval Office to incite an insurrection

1st to lose the popular vote TWICE

and now . . . the first to be INDICTED.

But the media is missing the biggest reason this is so… pic.twitter.com/IB0m4u5C5E

— Mary L Trump (@MaryLTrump) March 30, 2023
Trump has maintained his innocence throughout the case's long life, as he does every time he's accused of any wrongdoing he may have actually committed. His initial public response to the news was predictably fiery, playing the greatest hits about it being a "Witch-Hunt," complete with the usual baseless claim that it was all the doing of progressive boogeyman George Soros.
For the non-MAGA among us, it was a time for jokes, as it always when the big guy really falls on his face.
BREAKING: This is first time in American history that a current or former cast member of Home Alone 2 has been indicted for paying hush money payments to a porn star to sway an election pic.twitter.com/pGWSCk4zOO

— Zack Bornstein (@ZackBornstein) March 30, 2023
Fred Durst shakes hands with the former president and currently indicted Donald Trump at the 2000 MTV VMAs (2000) pic.twitter.com/DxK0OilRzL

— crazy ass moments in nu metal history (@numetal_moment) March 30, 2023
Remember, if they can belatedly indict The Crime Guy for one of his many, many obvious and highly public crimes, they could do the same thing to you.

— David Roth (@david_j_roth) March 30, 2023
I think it's time to say "Uncle."

— Mary L Trump (@MaryLTrump) March 30, 2023
Fox News handled the news well, as it broke during the latest segment of The Five.
Some people even predicted this would happen.
Thursday was a big day. Shortly after word of the indictment broke, Gwyneth Paltrow won her ski collision case. It was also the first day of the 2023 baseball season, and the idea that Trump could overshadow it did not sit well with some.
You're really going to indict Trump during the Phillies' Opening Day? Thanks, Alvin

— Will Bunch (@Will_Bunch) March 30, 2023
In the meantime, comedy writer Megan Amram — who spent much of the Trump presidency tweeting "Today was the day Donald trump finally became president" any time he did something unpresidential (i.e., often) — found arguably her best iteration of said tweet.
Today was the day Donald trump finally became president

— Megan Amram (@meganamram) March 30, 2023
Then there was Yuset Salaam, one of the vindicated/released Central Park Five, whom Trump has demonized from the start, even refusing to walk back his take after science proved them innocent. He had a one-word response to the indictment: "Karma."