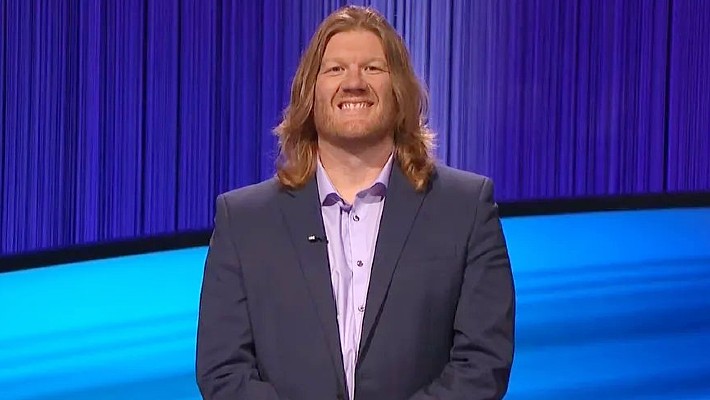 Jeopardy! fans are crying foul after a beloved contestant lost a chance at Final Jeopardy over a pronunciation. It all went down when hunky contestant Kevin Manning had to give an answer to a Biblical clue.
"After the Last Supper, Jesus traveled to this garden to pray & was arrested there," read the clue, which Manning immediately pounced on. He correctly said that the answer is "What is Garden of Gethsemane?" but apparently the judges didn't like the way he said it.
Via New York Post:
However, he rattled off the name of the place in Jerusalem with a hard "g" sound — like "gate," which is correct — in the beginning, and a "d" sound — rather than an "n" — on the last syllable.

Jennings, 48, said that was wrong and moved on to the returning champ, Tamara Ghattas, who used the "n" sound at the end but also said a soft "g" — like "gel," which is incorrect — on the first syllable.

"Yeah, we just needed the 'n' in Gethsemane — that's correct," said Jennings, who also pronounced the name with a soft "g."
That ruling cost Kevin a shot at Final Jeopardy and fans were not happy, especially after Jennings couldn't even say the word right.
Uhhhh @Jeopardy —-Who decided on the correct pronunciation of 'Gethsemane'?? I need to hear that again.

— Julie Keat (@JulieKeat) March 27, 2023
Unless I misunderstand #Jeopardy rules, the judges should not have accepted Tamara's "Bible" answer of Jess-seh-muh-nee. That's an entirely different word than Gethsemane, which is pronounced geth-seh-muh-nee. Of course, it didn't matter in the end. @jeopardy

— Rev. Joseph Rose (@josephjrose) March 27, 2023
Ken, the host of Jeopardy does not know how to pronounce, Gethsemane!

— Martha Moreno (@MarthaMoreno37) March 28, 2023
It also didn't help that Kevin was extremely soft on the eyes. During his episode, viewers couldn't get over how much he looked like WWE wrestlers Triple H and Chris Jericho, while others even went so far to compare him to Chris Hemsworth's Thor. One lady even floated out Sean Bean, which we can kind of see.
You can check out some of the reactions below:
Kevin Manning
I love a lavender shirt, especially with the navy suit! And we've had some great hairstyles this season. I feel like Kevin looks like a famous actor but I can't place him.#Jeopardy pic.twitter.com/UwoTHnV1Rg

— Lilly (@OneEclecticMom) March 27, 2023
Current Jeopardy contestant "Kevin" is a hot dude.

— Angelina Bro-Lee (@JamesK05675789) March 27, 2023
(Via New York Post)