There are few musical talents rocketing to stardom that hold the chameleonic charm of New Zealand's BENEE. W e catch up with the artist in this FRONTPAGE interview.
When I ask the New Zealand-based artist BENEE about her musical background, she thinks for a second before meeting me with a quip: "I started playing the saxophone when I was eight, but I have a feeling that might have been because of The Simpsons," jokingly alluding to the musically-inclined Lisa Simpson, whose jazz saxophone is never far from her grasp. "Like, why else would eight-year-old Stella want to play the saxophone?"
Though the younger BENEE might have shared a talent with the precocious cartoon wunderkind of the Simpson clan, you'd never know she was a prodigy from her unassuming manner and laid back style. The lightly self-deprecating tone BENEE takes in conversation comes across subtly in her songs — the humor is never over-the-top, but there's a slight cheekiness to her low-key wordplay, which gives both her music and her demeanor as a person an organic relatability.
BENEE exploded into view in 2020 with "Supalonely," a self-effacing earworm that channeled dejected malaise into a funky groove. The song was predestined to become a sad-girl anthem for an era of pandemic-induced isolation, but BENEE has been anything but isolated in the two years since, performing nonstop on top of her 2022 EP Lychee and connecting with an audience around the world.
"I had post-tour depression, just like, what am I doing with myself now?," she reflects. "You just really go from high highs to low lows when you go on tour. But it was so nice to reconnect with people and get out of New Zealand, because we've been here for a while and you forget how big the world is and how many people there are when you are in a place that is very small." Even in casual conversation about her work, BENEE remains unguarded and frank about what she's feeling inside, opening up about the impact of her mental health on music before I can even ask about it.
Understanding what she's gone through emotionally only reaffirms that the rise of BENEE is not just the development of an artist, but the growth of a human being. Early in 2021, she received an OCD diagnosis, an experience she's described as a relief because of the new clarity it allowed her. BENEE's relentless workrate is even more impressive given the inner work that has come along with it. At another time in her life, things like getting on a plane or driving a car came riddled with intrusive thoughts, but now she's able to travel the world and connect directly with fans who resonate with her journey.
Once travel restrictions eased, BENEE threw herself into touring and has become a stage veteran in short order. Especially post-lockdown, there's a deep catharsis to experiencing music with other people, and that singular connection between performer and crowd has served as creative fuel for BENEE. "A lot of music that's come out post-COVID has got this different vibe to it," she says. "Even playing live shows after being locked in, there is a very different energy in the music space now. I feel like everyone is just there and they're more present, it's partying like you could go back into lockdown. Also, upbeat songs are just so much more fun to perform live, everyone loves to smash their head and oomph," she quips, pumping her fist.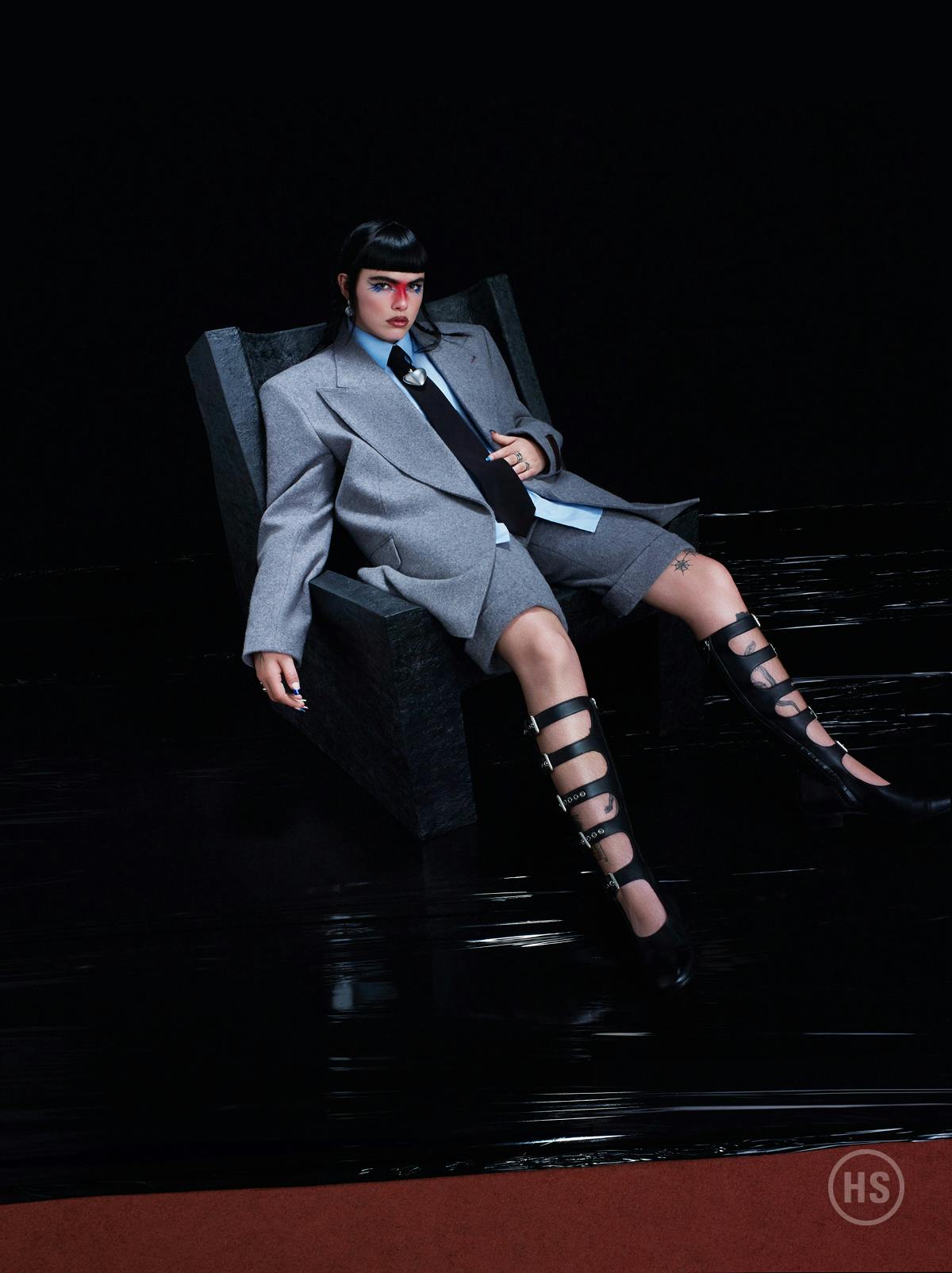 BENEE playfully skirts genre conventions, picking and choosing the sounds that delight her personally. A chilled-out indie rock guitar here, a rave breakbeat there, and a little AutoTuned trap just for good measure, whatever style best encapsulates an ever-changing mood — her debut album Hey u x featured a fittingly unpredictable lineup of artists across the pop spectrum, like Grimes, Flo Milli, Kenny Beats, and Lily Allen.
Even when she goes emo and inward, BENEE holds on to an underlying enthusiasm at the infinite possibilities of music, her songs a living playlist of omnivorous taste on shuffle. "I just love certain sounds. I'm always attracted to a beat, but it's whatever mood I'm in. I like the idea that you can take elements of each genre and create. I think that's what is really exciting about music right now. Like Lizzo's album, she made a freaking punk song. The future of music is just becoming a lot more blended. It's not so streamlined anymore."
More than anything else, what her new music aims to capture is pure energy: "I love the word energy," she says."'Energetic' just sounds fun to me." Plenty of previous BENEE tracks are danceable, but her new single "Green Honda" is a club banger like she's never done before, in-your-face bars over a full-bodied beat that splits the difference between bloghouse and hyperpop.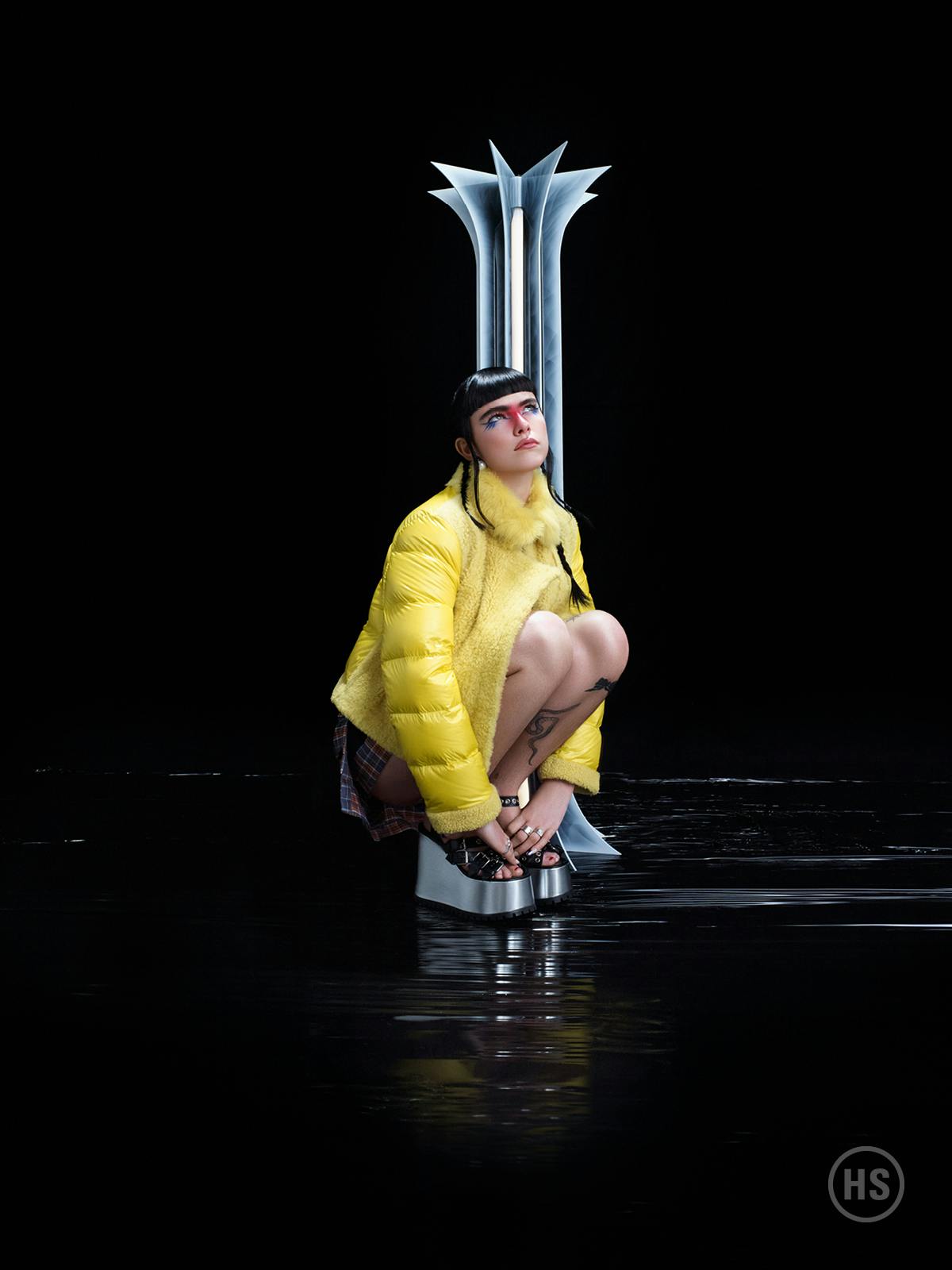 The creative process for "Green Honda" was different than any BENEE had experienced before — her collaborators on the song, Elvira Anderfjard and Luka Kloser, are major league songwriters from the team of pop powerhouse Max Martin. "One thing that's changed a lot for me is Prozac," she shares with a laugh. "I think that turned this new page for me feeling a lot more confident to work with new people. It's pushed me as an artist to be more experimental and challenge myself more. Sometimes when you put yourself in those positions outside your comfort zone, you can really create very different work, and for me that's been super inspiring."
But the "Green Honda" session was unique in yet another way: it was BENEE's first time in the studio working exclusively with other women. The supportive camaraderie of a female-led collaboration allowed a different side of herself to come out. "Honestly, when I went to do the session, I didn't know who I was working with when I showed up. [Elvira and Luka] were really nice to me and I was honestly waiting to be led to a room with a guy, and then they were like 'Oh no, it's us.' I was like, 'No way. We need more of this.' There's definitely a lack of women in producer roles, but that's a whole conversation."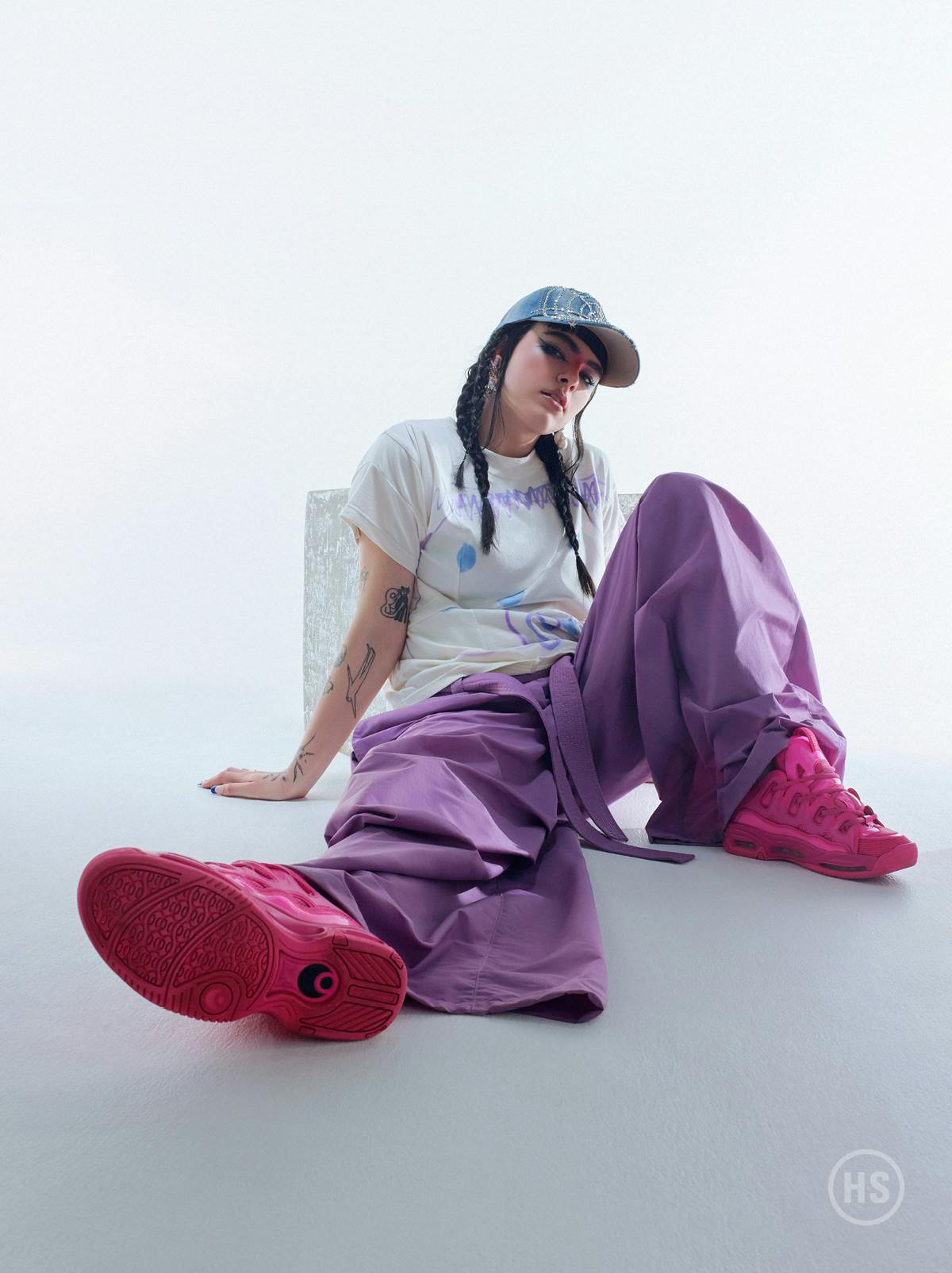 Even when the music industry has a female face, the strings behind the scenes are still so often pulled by men, which BENEE sees constraining other defiantly creative women in the industry. "I still notice that a lot of female artists are just pushed into the pop lane. Even artists who aren't necessarily pop are just pushed there. It's like, pop is fuckin' awesome, but I don't want any limits to what kind of music I can make, or what genre people will classify my music."
The playful excitement found in BENEE's music extends to her personal style, where she exhibits a similar love of eye-popping patterns and unique textures. Her stage fits are comfortable, often an oversized tee or button-down, but there's always a dash of color and character, a fondness for layered stripes, bold prints, and clashing patterns. "It's crazy how important everything is now for artists. You can't really just be a singer. They want visuals, and they want everything. But it's kind of cool to be able to just do everything."
BENEE sees the visual side of her work, whether music videos or looks on stage, as another way to define her fluid voice as an artist, and she draws creative energy from what she sees as much as what she hears. "For me, I'm inspired by artists all around me and movies or short films I watch, or music videos I watch religiously. I create mood boards for each project, and it's a fun way to translate what I'm thinking by image, and then create something different out of that. I feel like humans are just like sponges. We just absorb everything around us, like colors and textures and patterns and sounds and everything. We absorb stuff and then you squish us and we put something completely different out there."
Experience this story and others in the new issue of Highsnobiety Magazine, available from retailers around the world and our online store.