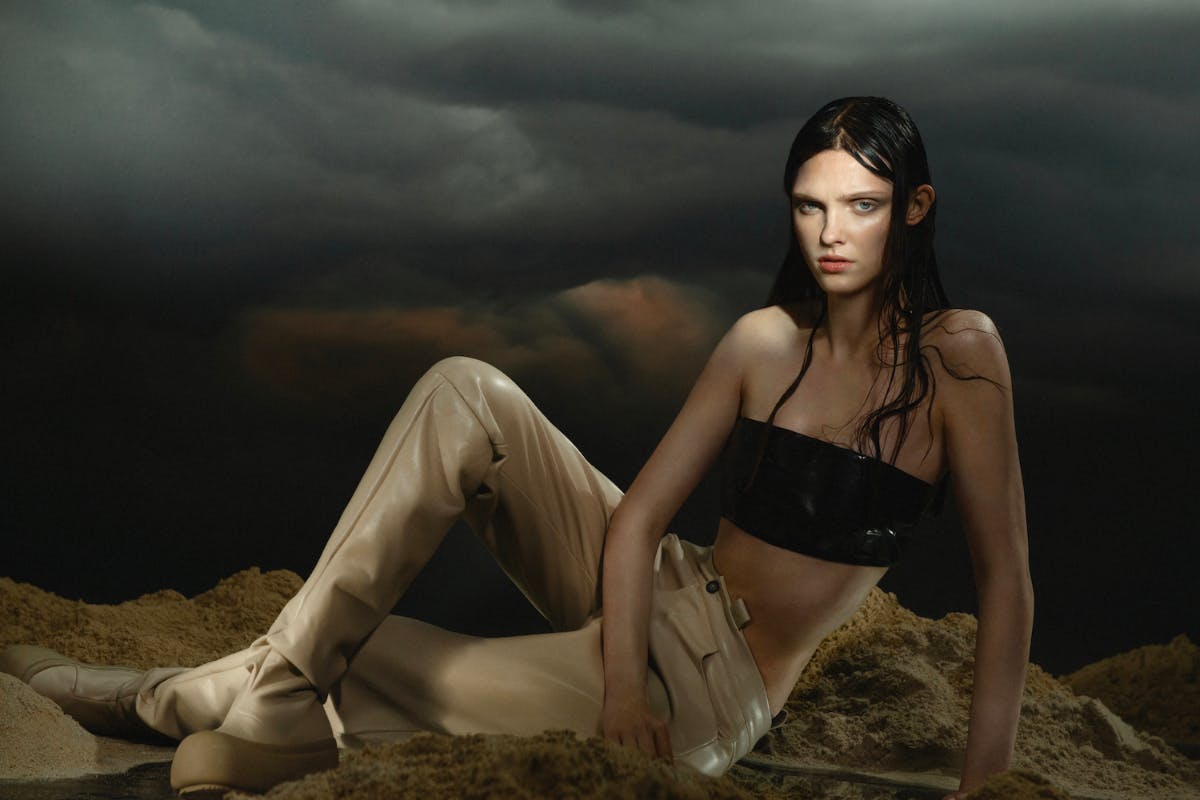 It's happening. YUME YUME turned its beloved shoes into clothes (well, sort of).
The Amsterdam-based label — known for its Japanese-inspired footwear — made its foray into the apparel game, unveiling an impressive Fall/Winter 2023 ready-to-wear collection.
In creating the FW23 styles, co-founder Eva Korsten looked to her grandmothers — her personal style influences — as inspiration. In short, the collection serves as an ode to the fashionable ladies in her life.
Titled "The Birth of the Core," YUME YUME's apparel is simply a translation of its footwear — the brand's "core," if you will. Indeed, the same materials and finishes incorporated on the footwear surface in its apparel pieces.
Move over, Balenciaga. YUME YUME just made its own shpants — that's shoe plus pants — featuring its Fisherman boots. Equipped with those familiar branded pull tabs, the booted-up trousers offer a slouchy, low-slung look like the popular shoes.
The team admitted during a virtual walkthrough that the pants are a little heavy, but these babies are undoubtedly a head-turner.
A strappy dress takes the barely-there trend to new levels while also nodding to the Tyre slide's unmistakable tubular design and the thicc nature of the Tent mules.
At the same time, moments of slight ruching — as seen on the Camp shoes — appear on the Mushroom hat and drop-waist puffy dress.
YUME YUME FW23 also includes outerwear (both cropped and maxi-style), an even-puffier puffy dress, knitwear, and an oversized shirt — all realized in the brand's signature vegan leather or jacquard material.
What's YUME YUME without its soul — or sole, I should say? Basically, FW23 also presented plenty of footwear options for YUME YUME heads to gush over.
Most noticeably, the brand introduces a new addition to the Love heel series: the Mini Love Boot, a bootie version of the coveted Love boots launched last year.
The Sausage heel, another fresh face to the YUME YUME fam, emerges with thick velvety straps as a riff on the Tyre sandals. Meanwhile, the Truck slides also underwent boot-ification, resulting in a ride-style model.
YUME YUME naturally reissues classics like the Love heel, Camp shoe, and Cloud Walker. While some return in past concepts, others received new velvet and woven jacquard treatments (like the apparel) fit for the cooler season.
What more can I say? YUME YUME FW23 is a banger, both apparel and footwear included. Being a "banger" is a great thing, by the way.
Well, if you need me, you know where to find me: on my couch building my YUME YUME fall wishlist.
Shop our favorite products