On his official Instagram page, former boxing champ "Iron" Mike Tyson issued a call to boycott movie streaming company Hulu after they announced the release of an unauthorized mini-series entitled Iron Mike.
"Hulu's announcement to do an unauthorized mini-series of the Tyson story without compensation, although unfortunate, isn't surprising," said Tyson. "This announcement on the heels of social disparities in our country is a prime example of how Hulu's corporate greed led to this tone-deaf cultural misappropriation of the Tyson life story.  To make this announcement during Black History Month only confirms Hulu's concern for dollars over respect for black story rights."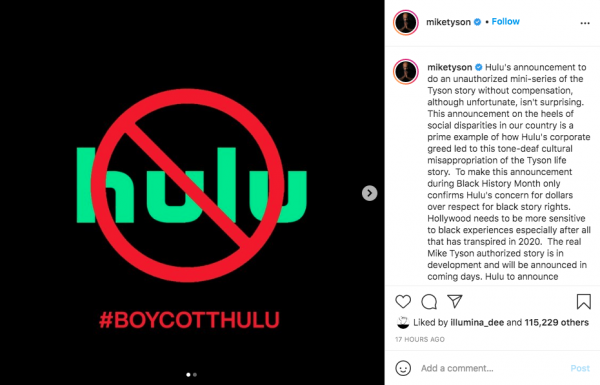 Iron Mike, created by Oscar-winning writer Steven Rogers will take a look at the ever-evolving, transformative, and victorious moments in the life of the Brooklyn native.